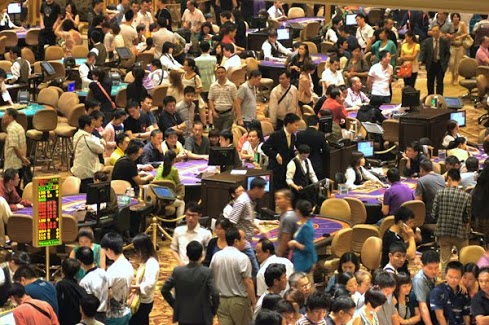 Will the new supply coming to the Cotai resort district set Macau back on the road to growth and if it does will operators be allocated enough tables to make the new multi-billion dollar resorts profitable?
They are billion-dollar questions with no ready answer as operators and investors adjust to an adverse political climate in China and the chilly "new normal" this has imposed on the world's largest casino market.
March will mark an unprecedented 10th straight month that total gaming revenue has fallen compared to last year. And with no letup in sight from the squeeze of a wide-ranging Communist Party crackdown on corruption, money laundering and lavish spending, it's anybody's guess when—or indeed if—the industry's core market of high-rolling mainlanders will ever return in significant numbers.
March gambling revenue dropped 39 percent to 21.5 billion patacas ($2.7 billion), roughly in line with what analysts had expected and adding to steep losses on Jan. and Feb.
Looking further ahead, in a client note published on the 16th, Morgan Stanley's Praveen Choudhary, Alex Poon and Thomas Allen served notice that the bank was downsizing its revenue forecast for 2015 from minus-7 percent to minus-25 percent, joining bears such as Deutsche Bank's Karen Tang, who a week earlier had published a forecast of minus-30 percent. The median, as of this writing, stood at minus-23 percent, implying the worst year-on-year performance since records have been kept.
Not surprisingly, anticipation surrounding the debut of the first of seven mega-resorts under construction on Cotai—Galaxy Entertainment's US$2.5 billion Galaxy Macau II, slated to open in May, and Melco Crown Entertainment's $2.4 billion Studio City, coming in the second half—has been muted.
It's not surprising either in an environment of negative revenue growth to find attention increasingly focused on margins. Morgan Stanley's analysts believe the new Cotai resorts will have to gross $200 million-$350 million per quarter from their tables and slots to break even in EBITDA terms—"which may not be easy in 2015/2016 with five new casino openings," they wrote. Their break-even assumes $18,000 in win per VIP table (the average through mid-March was $25,000), $9,000 in daily mass win (based on Sands China's daily fourth-quarter grind-mass win of $8,500) and $300 per slot machine.
Central to their projections, however, is the assumption that the new resorts will be granted 300 new table games each. That's a decision that rests with the local government and, given the dramatic shift in the political landscape under Xi Jinping, the outcome is likely to be problematic. As the Morgan Stanley team put it, "The risk … is high."
Table allocations have always been a politically sensitive issue, in no small part because the local government restricts croupier jobs—the best-paying jobs an unskilled worker in Macau can hope to land—to Macau residents. But Beijing has always been factored into the equation as well, and the central government has made no secret of its disappointment with the local economy's continued dependence on gambling.
So it was at the end of 2012 that, with one eye on a shrinking labor pool and another on the powers that be on the mainland, that the local government capped the supply of new table games at 3 percent a year to encourage diversification.
Cotai is meant to be the locus of this transformation, and with $20 billion in new resort investment headed that way, the concessionaires believe they have that transformation well in hand. The tacit understanding among operators and investors has been that the government would find a way to finesse the cap to reward everybody with enough baccarat to ensure lucrative returns.
Certainly when gambling revenue was expanding at double-digit annual rates—it had ballooned to $45 billion by 2013 on the strength of a mere 5,700 or so tables—it was difficult to take a 3 percent limit on supply seriously, and plans for the new Cotai resorts contemplate 3,500-4,000 additional table games by the time full build-out is achieved sometime in early 2018. The cap, if strictly maintained, would allow a little more than 500.
The labor issues, on the other hand, are not so easily smoothed over. Croupiers and other front-line casino workers took to the streets on at least eight occasions last year to demand higher wages and a greater say on job promotions and other workplace policies. Employment security figures prominently in their concerns, and foreign labor was, and is, among their biggest fears.
In theory it would take around 18,000-20,000 bodies to staff all the games the concessionaires are asking for on Cotai, and those numbers are nowhere to be found in a city of 600,000 already at full employment. Moreover, at the rate the market was growing prior to 2014 it would have been impossible to fill those positions from existing staff, and so labor groups have sought legislation to codify the ban on imported dealers and assurances from the government that the table cap will be enforced.
Given the current political landscape Union Gaming, for one, expects the government will "slow-play" table game allocations. In line with this, UBS Securities Asia figures 100-150 tables each for Galaxy Macau II and Studio City, which, ironically, will find the marketplace nearly aligned with a table cap that only a year ago was deemed to be absurd. The two resorts were planning for 450-500 tables each.
Morgan Stanley's case for break-even implies the two will grow the market by 6-8 percent in revenue terms, for which the bank estimates they will need 300 tables each. With 150, the bank believes EBITDA could miss break-even by as little as 6 percent or it could miss it by as much as 23 percent.
Writing last summer, Union Gaming projected some of the gap would be filled by electronic table games, with the number of e-table seats to nearly double to at least 9,000 by the time Cotai is built out.
Now the problem of finding enough baccarat seats has all but disappeared before the knottier problem of finding enough high-rolling mainland gamblers willing to brave Xi's anti-corruption drive to fill what's already there.
A double-digit revenue correction in 2015 sliced down the middle of current projections at minus-23 percent implies a US$34 billion market, roughly the size of 2011's, a year that ended with the official table count at 5,300, which means it's possible a couple hundred tables or more are in play than the market can bear, although that's difficult to say, too, because something like one-third of VIP rooms have closed over the last 12 months, according to some sources, and junkets are folding right and left.
Deutsche Bank estimates average bet size is already down 20 percent from its peak of around HK$2,000, while in terms of mass-market table yields the larger effects on same-store revenues threaten to be more profound. Tang expects mass table yield will fall 16 percent this year, 14 percent in 2016, and a whopping 30 percent when the last of the new Cotai resorts comes on line in 2017.