In August, Macau's six gaming concessionaires and sub-concessionaires filed their second-quarter results, rounding off a three-month period of mixed fortunes.
Compared to pre-pandemic second-quarter results (2019), we can begin to see a clearer picture of how their relative market shares in VIP and mass have changed in the last quarter. Below we round up some of those shifts as well as the company's key messages in their earnings calls.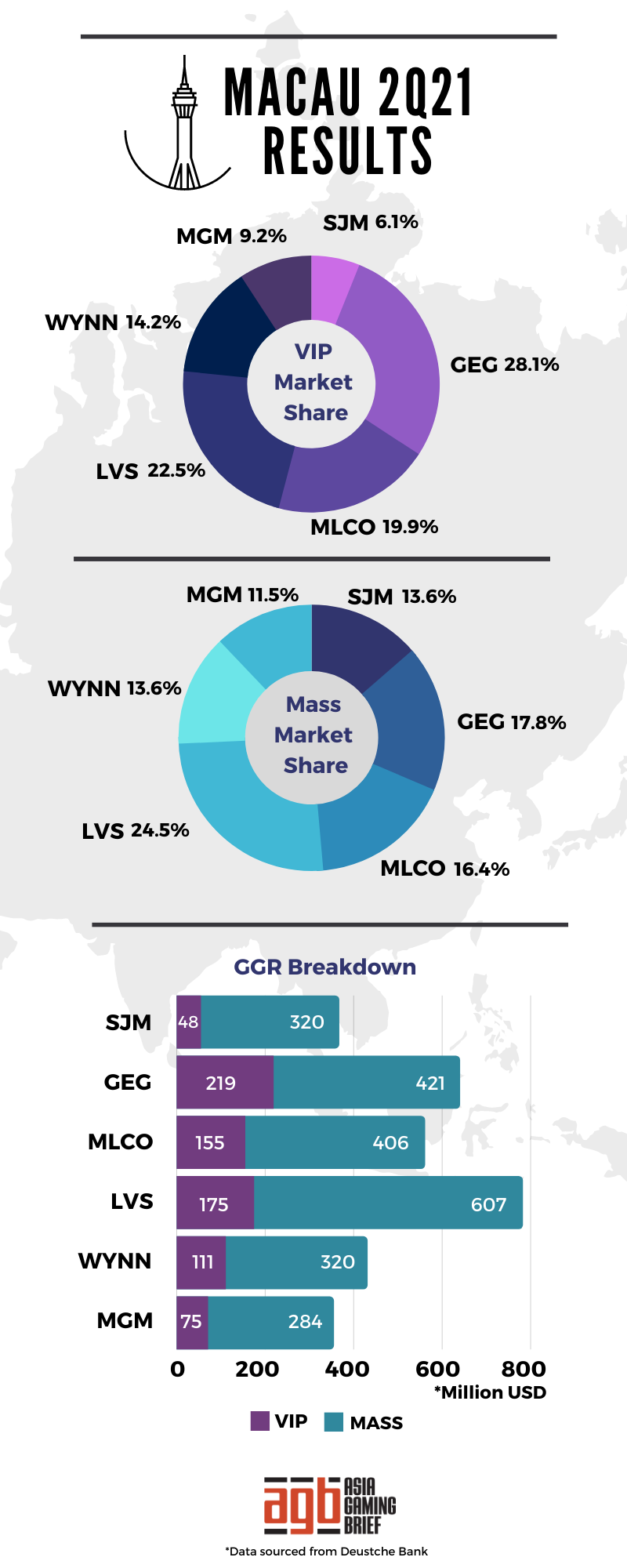 SJM Holdings, with mostly mass-focused properties, lost both VIP and mass-market share compared to 2019 with the largest dip coming out of the VIP segment. Its total GGR share went from 14.3 percent in 2Q19 to only 11.7 percent in 2Q21.
In a filing, SJM chairman and CEO Ambrose So said that its operating results for the first half of the year "reflect the cautious reopening of Macau for tourism."
"We anticipate continued growth in the second half of 2021, and we are very pleased that our Grand Lisboa Palace Resort is now open to welcome the increasing flow of visitors."
Galaxy Entertainment Group (GEG) gained a small amount of VIP market share in the quarter but traded it for mass-market share, taking its total GGR share down from 21.6 percent in 2Q19 to 20.4 percent in 2Q21.
Earlier this month, the group said its 2Q results were driven by its flagship property Galaxy Macau, and is now working on opening its third phase expansion early next year, which is aimed at attracting more high-end (but non-gaming) customers.
Melco Resorts, which has been pursuing a premium-mass revamp strategy, gained VIP market share in 2Q21, compared to the same period in 2019. It also gained mass-market share as well, taking its total GGR take up to 17.9 percent in the quarter.
Melco posted a sharp improvement in 2Q results compared to the prior year, boosted by mass and premium mass gamers. It recently also announced the shifting of focus of its Altira property in Macau from VIP to that of premium mass, as part of the company's strategic shift towards the high-margin market.
Las Vegas Sands remains a total GGR leader with its six properties in Macau, though its 2Q results were lower than expectations. Its VIP market share surged in 2Q21 compared to 2Q19, going from 15.4 percent to 22.5 percent. Its mass GGR fell to 25.7 percent in the quarter. Its market share makes up for almost a quarter of Macau GGR alone.
In a conference call, LVS said it remains confident that its properties will return to 2019 levels when restrictions are eased, as clients who are visiting are showing similar spending trends to the pre-pandemic era.
Wynn Resorts, a VIP focused operator which runs Wynn Palace and Wynn Macau, saw a steep drop in its VIP market share, going from 19.5 percent in 2Q19 to 14.2 percent in 2Q21. It however, gained slightly in mass-market share, going up to 13.6 percent.
Wynn Resorts' 2Q performance was driven by its gaming and non-gaming performance with particular strength in April and May. "While there have been some fits and starts along the road to recovery in Macau, we were encouraged by the strong demand we experienced during the May holiday period, particularly in our premium mass casino and luxury retail segments," noted Matt Maddox, CEO of Wynn Resorts.
MGM Resorts, which operates MGM Cotai and MGM Macau, saw its mass and VIP market share rise in 2Q21, bringing up its total GGR share from 9.1 percent in 2Q19 to 11.3 percent in 2Q21.
During an earnings call, MGM CEO Bill Hornbuckle stressed that the company remains committed to increasing its footprint in Macau, particularly in the premium mass segment, and will soon be expanding the group's upscale room suite inventory. The company had recently finalized the construction and fitting of the suites at MGM Cotai, and is now under soft opening and is expected to officially open later this month.
Furthermore, the company has now finished its gaming floor refresh at MGM Macau and is now looking at remodelling its villas there for premium mass.