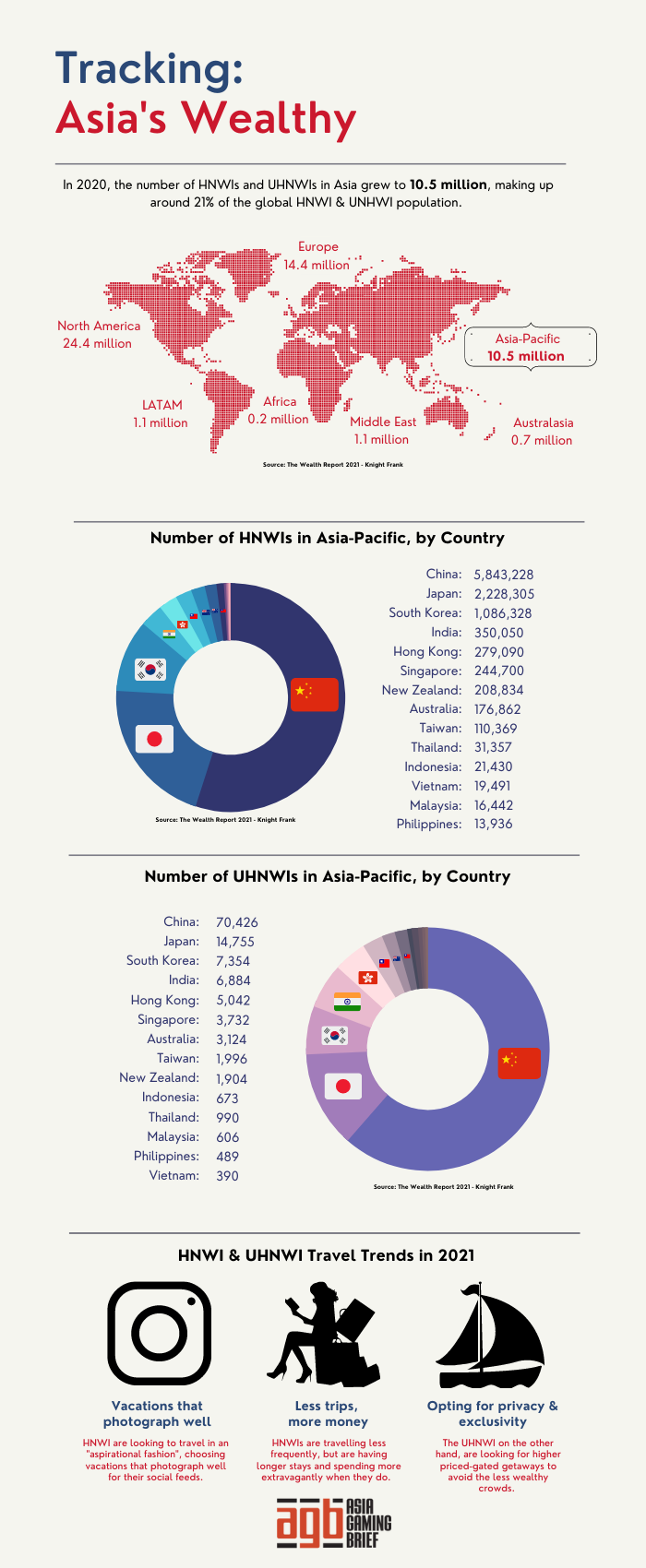 After five years of dominating growth, Asia Pacific's high net worth individuals (HNWI) and ultra-high net worth (UNHWI) population and wealth numbers slumped into third place in 2020, though structural advantages, such as a younger population and robust economic momentum is expected to drive a resurgence.
High net worth individuals or HNWIs are those defined as having investable assets of US$1 million or more excluding primary residence, collectibles, consumables, and consumer durables. Another category, known as the Ultra High Net Worth Individuals, or UNHWIs, are those with more than $30 million of investable assets.
By 2025, Asia's HNWI population is expected to grow from 10.4 million to 15.2 million, whilst its UHNWI population is expected to go from 116,697 to 161,878.
Topping the list over the next five years continues to be China, Japan, and South Korea in terms of wealthy population – through India, Indonesia, New Zealand, and Singapore, are ones to watch – with their wealthy populations looking to grow more than 50 percent over the next five years, according to a wealth report from Knight Frank.
It is these groups that make up for the majority of the premium mass and VIP gaming market, a market that is seen as challenged at least in Asia due to regulatory and economic factors relating to Mainland China.
Today's infographic is a country-by-country breakdown of the HNWI and UHNWI population and wealth across the Asia Pacific, giving an idea of which countries VIP gaming marketers should be keeping their eye on.
We also look at some of the travel trends from the wealthy elite so far identified in 2021, based on research from wealth intelligence firm Wealth-X and Globe Trender's Elite Travel Trends 2021 report.
This includes a trend of HNWI travelers that are increasingly looking to travel in an "aspirational fashion", traveling less but spending more on the trip, and choosing vacations that photograph well for their social media feeds.
Meanwhile, the ultra-wealthy travelers are reportedly looking for more private and exclusive experiences, booking out yachts, villas, and private planes and for longer periods of time.
They're also opting for destinations that are almost completely price-gated to the ultra-wealthy in order to get away from the crowds. Some instead, have chosen to remain closer to home.
"They're traveling less because they can go whenever they want. They own their businesses and they have the money, the time, and the staff to be able to go whenever – they're waiting to see how places play out. They're not going back to restaurants immediately because they're filled with people who have never really eaten there before. They're doing things at home, and they're participating in more private experiences.," says Jaclyn Sienna India, founder, and CEO of UHNW travel and lifestyle agency, Sienna Charles, quoted by Wealth-X.
A separate report from Globe Trender's Elite Travel Trends 2021 found that these individuals are typically extending their holidays but doing less frequent travel.