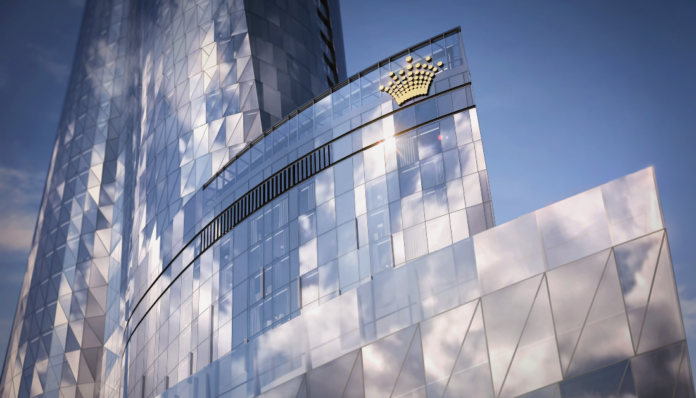 A combined entity consisting of The Star Entertainment Group and Crown Resorts would create a behemoth gaming enterprise not just in Australia, but in the wider Asia gaming market, though market observers have flagged a number of regulatory hurdles that could hinder it from ever becoming a reality. 
Over the last few months, investors have been salivating over the Melbourne-based casino operator, which has seen its shares fall as a result of ongoing investigations into the company's management and operations in NSW, Victoria, and Western Australia, along with a general share price slump due to border closures and covid-19 related lockdowns.  
In March, a surprise proposal came from U.S. investment manager Blackstone Group to buy out all of Crown's shares at an indicative price of A$11.85 per share in what would be an A$8 billion deal. Only a few weeks later, Oaktree Capital Management made an offer of its own – to buy out A$3 billion worth of shares owned by James Packer's Consolidated Press Holdings at an indicative price of around A$12 a share. 
However, the boldest move came from The Star Entertainment Group last week, which put together its own unsolicited, non-binding offer to merge the companies into a A$13 billion Australian gaming giant. 
The proposed merger is seen by analysts and observers as an overall positive for the two companies should it go ahead – but opinions divide on how it would be seen by Australia's competition regulator, the Australian Competition and Consumer Commission.
"The biggest issue facing a merger is likely to be the ACCC, which will be concerned about the concentration of ownership and absence of competition in the three key Eastern state markets. NSW will be a particular issue," said David Green, an Australian gaming industry veteran. The problem wouldn't be present in Victoria, due to Crown's monopoly license.
Indeed, the ACCC chairman, Rod Sims on Monday told local media he would conduct a public review of the merger proposal.
"We will do a detailed investigation. It will be a public review," said Sims. "It's very early days. But we would look at the market for domestic table game customers," he said. "We would look at the competition between Barangaroo and Star in Sydney. We would also look at the extent to which there is intercity competition for customers."
Sims was referring mainly to NSW, The Star's flagship property, which would likely share a portion of its customers with the newly opened Crown Barangaroo (though the casino is yet to open). 
But The Star CEO Matt Bekier said he's had informal soundings with ACCC in the past and is confident that the deal will be allowed to push on through. 
The optimism is shared by CLSA analyst Anthony Longo, who said: "With most Australian casinos servicing the "locals" market, we see the limited threat of the ACCC blocking the transaction, and this view is shared by Star from its initial discussions with the body."
JP Morgan's Don Carducci said he saw no risks for Star receiving formal merger approval from the ACCC, as previous talks did not throw up any red flags at the time. He even expects the company to be able to receive approval quicker than other parties. 
Kevin Clayton, former chief marketing officer of Galaxy Entertainment Group and now independent consultant said it would be short-sighted for regulators to see the merger of the two companies as monopolistic. 
"Australia regulators must grasp the opportunity and look beyond Australian shores into Asia and further afield.  If the regulator is myopic and views a coming together of The Star and Crown Resorts as monopolistic, then it doesn't truly understand how and why Australia must compete in the Asia region for tourism and gaming spend."
The pairing could also be seen by regulators as a better alternative to foreign suitors, by keeping ownership of the Australian gaming company within the country's borders.
"Australia Regulators within NSW, Victoria, Western Australia, and Queensland also have a strong appreciation, and in some cases close working relationship with The Star and its CEO, so a marriage between the two casino-resort operators appears to be a much lower risk option than accommodating overseas suitors," said Clayton. 
Kelly Amato, director of South East Asia Industrials at Fitch Ratings said that a combined Crown/Star entity would create one of the larger gaming operators in the APAC region.
"The properties would continue to benefit from predictable local markets and the combined entity's position as each region's sole licensed casino operator. However, not only would the combined entity build on the scale, but we also expect that acquisition will improve margins with The Star expecting to generate additional efficiencies of between A$150 million and A$200 million across the group through removing the duplication of corporate and risk management functions and benefitting from combined marketing." 
"Further, the majority share-backed merger would limit the amount of incremental debt the new entity would need to take on, which we believe is positive, and the proposed creation of a property trust would give the new entity additional flexibility to manage its capital structure post-transaction.
Whether Crown takes on the Blackstone, Oaktree, or Star proposal, any of the current bidders would give Crown an avenue to shed the "undue influence" on its board from its majority shareholder James Packer – that of which was labeled "disastrous" in a report commissioned by the New South Wales Independent Liquor and Gaming Authority earlier this year. 
In the Star/Crown merger case, however, the entities would have to address how the transaction will proceed to ensure that CPH does not retain more than a 10 percent share of the merged company's equity, which is a condition of The Star's license in NSW, according to Amato. 
"The Star would have to go through additional checks despite it currently holding a license and operating its casino in NSW," she said. 
Though, the Fitch analyst added that it is worth pointing out that Crown also could choose to do nothing with any of its current suitors, as its Australian domestic business is strongly supported by its attractive assets in Melbourne and Perth and a favorable regulatory regime in the country.
Clayton however, believes this would be a missed opportunity. 
"The Star and Crown Resorts have some really attractive and diverse resort assets located in major cities throughout Australia, that collectively could result in one Resort operator marketing a single resorts brand, or multiple brands targeting different customer value segments, competing for market share in a highly competitive integrated resort (casino) market."
"Domestic customers of The Star and Crown Resorts may also benefit if a single loyalty program was to exist, with levels of recognition and associated benefits accessible in major cities located throughout Australia, together with the power of a single customer database and what this could deliver for its members through strategic partners in Australia and overseas."
The merged entity may also open up new avenues of funding, and give the combined company an opportunity to grow outside of Australia, according to Green. 
"The merged entity would almost certainly be an ASX 50 member, which would improve its investment rating, and may lift the credit rating…Crown as you know was [placed on negative watch] late last year by Moodys and Fitch on the basis of increased regulatory risk. Not only should that risk diminish, but significant costs will be cut, starting with a single Board and CEO! A re-rating would give the merged company better and more favorable access to capital markets than either company can presently get."
 "A merged vehicle may have better prospects growing outside Australia; I doubt that there will be much market benefit from the merger in so far as the domestic market is concerned. The challenge will be to overcome the distributional disadvantage of brick-and-mortar casinos to win back patrons who may have gone to online casinos or sports betting during COVID. The hotel business is going to be slow to recover given the expected absence of international tourists until at least 2022."
The sentiment was supported by Fitch Ratings' Amato, who believes that each property will likely continue to focus and derive its revenues from the city in which it is located, though some cross-property promotions may emerge. 
"Regarding the wider Asia gaming market, a combined entity with properties in Sydney and Melbourne would be an attractive proposition for international gaming in the region," said Amato. 
"However, the restrictions recently implemented by regulators around junkets will likely have some impact on the combined entity's ability to access that market. Further, the ongoing international border restrictions – which are now expected to last into 2022 – have effectively shut this market for Australian casino operators since March 2020. Therefore, we expect the majority of the combined entity's EBITDA would continue to be derived from its domestic operations."