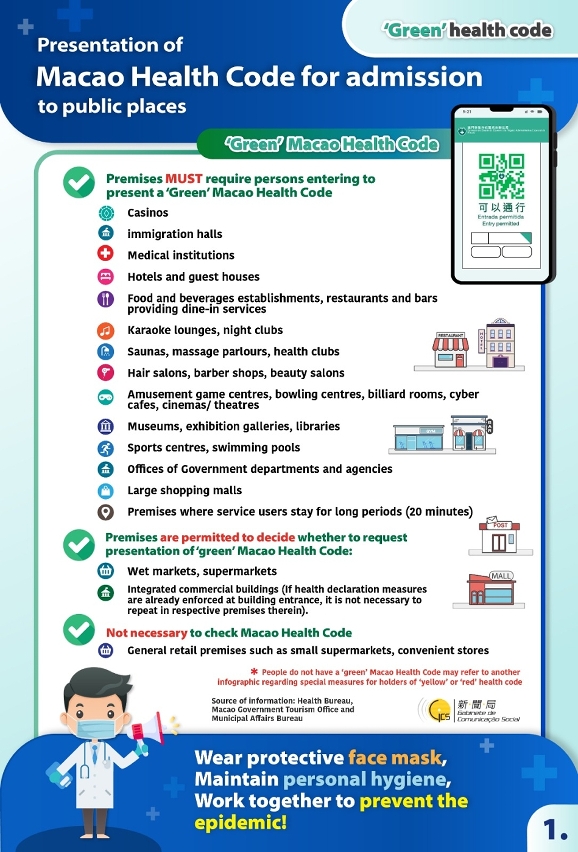 Macau is stepping up its vaccination drive as the threat of Covid draws closer, forcing the reimposition of health and safety measures at casinos and tougher border checks.
From Wednesday, anyone entering one of Macau's integrated resorts will need to have their temperature checked and will once again need to wear a mask. Customers will also need to present their Macau Health Code status, which needs to be green to enter. The same is true for all bars, restaurants, hotels and entertainment venues across the city.
Tighter restrictions have also been introduced at the borders, with anyone entering from neighbouring Guangdong now required to show a negative test certificate taken within the prior 48 hours. Previously, the tests were valid for seven days.
The new border requirements have had an immediate impact on visitation with border entries and exits down 30.3 percent to 253,400 on Tuesday, when the tightened measures took effect.
Macau's government has won widespread praise for its handling of the virus, with just 52 cases, one of which was detected on Wednesday, and no deaths. However, its vaccination rollout has been slow with residents showing no urgency to come forward to get the jabs after living in relative normality for more than a year.
However, the government is now stepping up its efforts to encourage a wider take up in a push to achieve herd immunity, which it says will be necessary in order to return to normality. 
For the operators, whose gross gambling revenue is forecast to fall about 30 percent in June from May, there are clear incentives to join the push and all have launched information campaigns for staff and their families. 
The Health Bureau kicked off a three-day vaccination drive at Galaxy Entertainment's Galaxy Macau on Thursday. The drive follows two information seminars for employees.
Deputy Chairman Francis Lui took the lead in being the first of a series of executives to get the shot. 
"GEG's collaboration with the Heath Bureau on setting up a vaccine drive and hosting vaccine seminars is helping to encourage team members and their families to get vaccinated and thus to help Macau get closer to achieving herd immunity," he said. 
Melco Resorts & Entertainment, which is offering cash incentives, said more than 300 of its employees had recently attended a seminar as part of its "Get the Jab" campaign.
Melco has earmarked MOP16 million to encourage employees to get vaccinated.