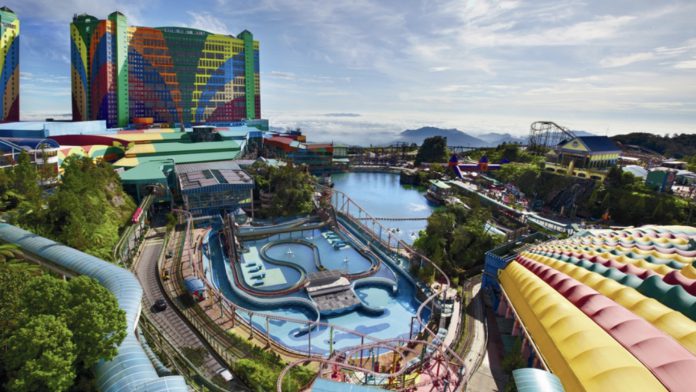 Genting Malaysia's flagship property Resorts World Genting is expected to be locked down for at least three months as the country battles another outbreak of Covid, however, this year is unlikely to be as bad as 2020 as other global properties reopen, Maybank Investment Bank said.
The firm is maintaining its Buy rating on Genting, but reducing its target price by 2 percent to MYR3.38. It has also widened its estimate for the group's core net loss by 76 percent to MYR676 million.
Genting Malaysia's flagship Resorts World Genting is the only integrated resort in Muslim-majority Malaysia. The property has traditionally been the cash cow for the group, accounting for about 80 percent of earnings.
However, Resorts World Genting has been fully closed from the end of May in its third lockdown since the start of the pandemic. Maybank estimates that this time the property will remain shut for three months and that the opening of an outdoor theme park, which is a central plank in its Genting Integrated Tourism Plan, will be pushed back until December to coincide with school holidays.
Still, Maybank argues that the core net loss will still only be less than a half of the MYR1.44 billion loss reported last year.
Genting's U.K. casino, which accounted for about 10 percent of pre-Covid EBITDA, reopened on May 17, after being shut since January 3. Resorts World New York, which was also about 10 percent of pre-pandemic EBITDA, saw its April gross gambling revenue return to 2019 levels, while the 49-percent owned Resorts World Catskills saw its April GGR return to 84 percent of the prior.
Casinos in the U.S. saw Q1 revenue match the highest quarterly level ever on pent up demand. In Malaysia, when the casino did reopen last year, Resorts World Genting also saw a fast rebound.
Maybank is leaving its 2022 and 2023 estimates unchanged, based on Resorts World Genting visitor arrivals of 24.2 million and 26.2 million respectively. The firm is expecting vaccination rates in Malaysia to surge from June as the country takes delivery of 16 million doses.
"RWG visitor arrivals rebounded quickly when it reopened and interstate travel was allowed in 3Q20," it said.
Longer term, there are also drivers that may provide a significant boost to 2023 earnings. It said should Genting be able to write back an impaired investment resulting from an accord to run a casino for the Mashpee Wampanoag tribe and should it be permitted to convert its New York electronic game only property into a full casino, earnings could see upside of 63 percent.