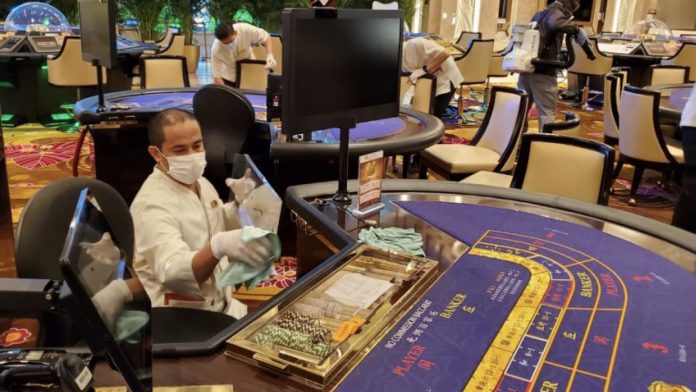 Although Macau's gross gambling revenue showed significant improvement in May, both year-on-year and sequentially, significant headwinds remain and the figures did little to excite stock investors.
Following the publication of the figures on Monday by the Gaming Inspection and Coordination Bureau (DICJ), analysts at Deutsche Bank tweaked their forecasts for Q2 upwards, but trimmed down estimates for the year as a whole.
The bank expects revenue for the second quarter to come in at $3.66 billion, up from its prior estimate of $3.04 billion previously. For the full year however, it sees GGR at $17.76 billion, down from $19.35 billion earlier.
According to the DICJ, May GGR was up 24.3 percent from from the prior month and a gain of 492 percent year-on-year. It was down 59.8 percent from the same month prior to the pandemic.
Shares in Macau's casino operators initially rallied on the figures, but ended the day mixed. SJM Holdings, Sands China and Galaxy Entertainment ended the day in negative territory, while MGM Resorts and Wynn Macau held on to moderate gains. Melco Resorts & Entertainment, which is only listed in the U.S., was higher in morning trading.
The May GGR figure was in line with expectations, but revenue tailed off after the promising start to the month during the Golden Week holiday. This year, China extended the holiday to five days, providing a strong boost to visitation and hotel occupancy in Macau, with the break accounting for about 30 percent of the total month's GGR.
Although revenue in June is still expected to rise sequentially, that's only likely to be in the low single digits as further outbreaks of Covid spur local lockdowns in China and slow the recovery.
Bernstein is expecting June GGR to be down in the mid 50s percent from the same month prior to the pandemic.
The firm is still sticking by its forecasts that visitation and GGR will see a stronger improvement in the second half of the year, resulting in 2021 GGR being about 64 percent of 2019 levels. As vaccines are rolled out, travel restrictions are expected to be gradually eased.
China has seen new local clusters recently, including in Guangdong, Macau's key feeder market. However, these latest outbreaks appear to have given new momentum to the country's vaccination program, with about 20 million shots a day now being administered on the Mainland.
According to Bloomberg, about 40 percent of the 1.4 billion population has now received at least one shot and major cities such as Beijing and Shanghai may be only weeks away from achieving coverage levels that should ensure herd immunity.