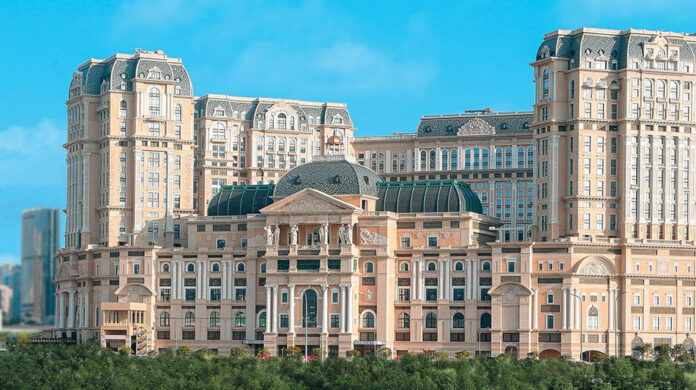 SJM Resorts says that it is planning to hold a partial opening of its flagship property on the Cotai Strip, Grand Lisboa Palace, on Friday, July 30th.
In statements to local media on Wednesday, SJM Chairman Daisy Ho stated that the property would be opening with 150 new-to-market gaming tables, similar to other new properties on the Cotai Strip.
The remaining tables are planned to be moved over from the Macau peninsula, however, the SJM chairman could not yet say how many tables would be available upon opening or what the split would be between mass market and VIP tables.
The much-anticipated arrival of SJM to Cotai comes despite some border restrictions – mandatory quarantine for entry from Hong Kong and Taiwan and some quarantine measures placed on provinces of China.
Tourists who are not residents of Chinese territories are also still banned from entering Macau.
Daisy Ho today said on Wednesday that the full opening of the hotels on the property would depend on the travel restrictions and pandemic situation worldwide.
The Friday opening will comprise just half of the rooms of the Grand Lisboa Palace hotel.
Two other hotel towers, the Palazzo Versace and Karl Lagerfeld, upon opening, will bring the total to 1,892 rooms.
Daisy Ho says she is "hoping" that the group will "be able to open up entirely", including all three hotel towers, by the end of this year.
In previous estimates, the group has calculated their investment in the property at some HK$39 billion, with capital commitments in connection to the Grand Lisboa Palace totaling HK$2.5 billion.
Construction on the project began in February of 2014, with an initial opening date set for 2017, but numerous delays, including fires and government-mandated halts on construction due to work accidents, pushed the project back by years.
It was initially expected to offer 700 gaming tables and over 1,200 slot machines, with an estimated construction cost of HK$30 billion.
Once the gaming leader in Macau, with its parent company STDM holding a monopoly on casino gaming in the territory for decades, SJM has steadily lost market share as other operators opened properties on the Cotai Strip.
In its fiscal 2020, the group earned just 14.1 percent of Macau's gross gaming revenue, with 19.7 percent of mass table revenue and 8 percent of VIP.
Amongst the pandemic, the group also lost 84 percent of its gross gaming revenue from its Casino Grand Lisboa, on the peninsula, while registering a hotel occupancy rate of under 18 percent.
The property is the last large-scale operation to open on the Cotai Strip, with no other large-scale investments planned – aside from expansion projects such as those being carried out by Galaxy, Studio City, and Wynn Palace.
It comes ahead of the 2022 expiration of Macau's gaming concessions and sub-concessions, a process which will require the lengthy re-drafting of Macau's gaming legislation – which experts expect will require an extension of the current contracts in order to be completed properly.