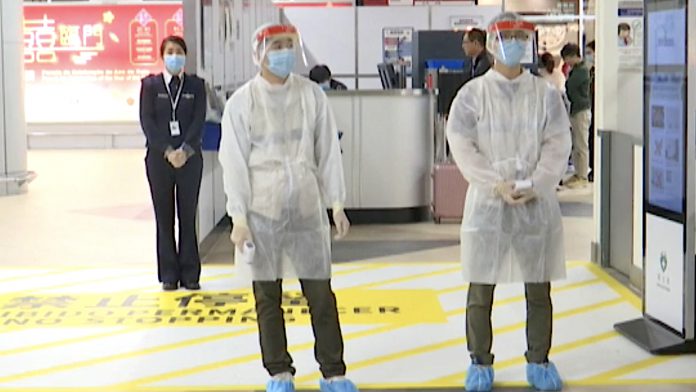 Some 144 people have been subjected to mandatory hotel quarantine in Macau after new government mandates due to the outbreak in the Nanjing Lukou airport.
Macau's coronavirus response team has ordered that anyone who had been in the Nanjing airport and entered Macau on July 14th or afterwards must undergo the two-week quarantine. This comes after an asymptomatic case was detected in the neighbouring city of Zhuhai on Monday. A separate case in the nearby city of Zhongshan has also been registered, both linked to the Nanjing cluster.
Authorities on Tuesday said that some 1,430 people had provided information saying that they could have had contact with the Zhuhai case, based upon their travel history. Authorities are now contacting these individuals, who will be subject to three nucleic acid tests over the next seven days.
In addition, authorities in Zhuhai have are going to test some 35,000 people who had been to areas which the asymptomatic patient had visited. Their health code, required for entry into Macau, has been changed from green to yellow and will only revert after they have tested negative in two separate nucleic acid tests within the coming three days.
Authorities have noted that they are prepared to carry out testing on a massive scale in Macau, having previously subdivided the city into various testing districts. The measure could be implemented on only certain zones or on Macau's entire population "depending on the circumstances".
They're urging all citizens to get vaccinated as quickly as possible, noting that only about 30 percent of the population has been fully vaccinated. Authorities are seeking a vaccination rate of 80 percent before considering opening up to regions outside of Mainland China.
On Tuesday, Macau authorities also implemented a mandatory 21-day hotel quarantine for any individual who had been to Taiwan in the 21 days prior to entering Macau.
Mandatory 14-day quarantines are also in place for individuals who had visited regions in four Chinese provinces: Yunnan, Jiangsu, Liaoning and Sichuan.
Entrants from Hong Kong are also required to undergo a 14-day hotel quarantine.
Macau continues to only allow entry for residents of Chinese territories, foreign tourists are not allowed into the SAR.
Despite the concern by authorities of the nearby cases, it's unlikely that Macau will undergo another closure of its casinos as they rely more on testing, border control measures and vaccination to prevent a community outbreak.
Macau's casinos underwent an unprecedented 15-day closure in February of 2020, amongst fears of local transmissions in the community.
The SAR has registered 485 consecutive days without a local transmission case, while only 49 people have been diagnosed with Covid in the SAR since the pandemic began.