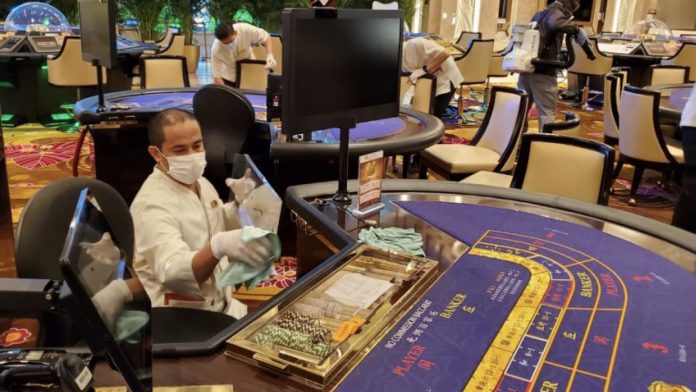 Despite the concern from Covid cases popping up across the Mainland Chinese border, the probability of an outbreak in Macau that causes significant disruption to travel or forces closures is low, say analysts at Bernstein Research.
Macau authorities have warned that an outbreak could occur at any time after cases were detected in nearby Zhongshan. Four individuals were identified who travelled back from the area and have been classified as close contacts. So far they have tested negative.
In addition, Zhuhai, which neighbours Macau on Monday announced a new case in a patient who had travelled back from Nanjing. The case has triggered a city-wide testing program in Zhuhai, which is scheduled to be completed on Tuesday. 
"We expect the local transmission likelihood to be low," Bernstein said in a note. "While it is possible an infection pops up out of this and causes a few days of disruption in Macau, an outbreak at this stage that would close Macau or significantly disrupt travel is a low probability."
The firm notes Macau, which has had 59 confirmed cases, has not had a locally transmitted case for 484 days. 
Macau's gross gambling revenue in the week up to July 25 was down 14 percent week-on-week, but was still up 29 percent on June levels, Bernstein said.
According to its channel checks, month-to-date GGR was MOP7 billion ($874 million with an average daily rate of MOP280 million, which is some 65 percent lower than pre-pandemic levels.
Bernstein said VIP hold in the latest period is above normal, with a high 20s percent increase in average daily rolling volume. Mass GGR is up about 30 percent from June. 
Visitor arrivals were some 8 percent higher week on week from July 16 to 22 and were 52 percent higher than the June daily average. However, new requirements for quarantine for residents from cities such as Zhongshan, Nanjing and four others may slow the pace. 
June has been the weakest month so far this year for GGR in Macau after an outbreak in Guangdong forced the reimposition of travel restrictions to the province, which is the gambling hub's biggest source market.