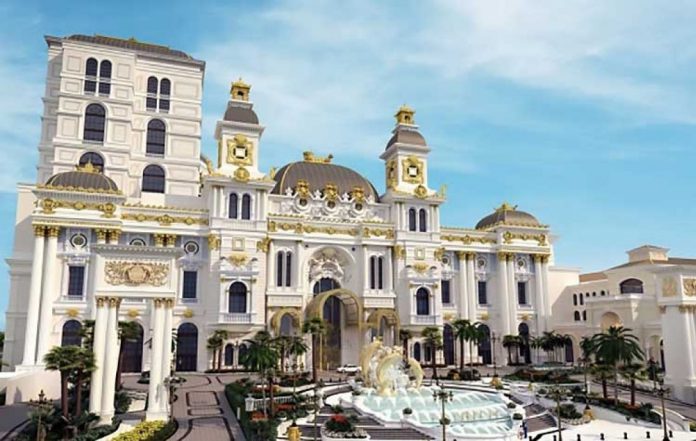 Imperial Pacific International's under construction resort on Saipan should be "blown to smithereens," if the Casino Control Commission revokes the company's operating license, lawmaker Vicente Camacho said.
Representatives and regulators met on Thursday to discuss the future of the resort, which has become a white elephant in one of the island's prime tourism destinations. Construction on the unfinished property has been halted since January, when its chair was found to be in contempt of court.
The license to operate has been indefinitely suspended and is highly likely to be revoked, while the Hong Kong-listed company faces mounting legal action in an attempt to recoup unpaid wages and fees. Its assets, including gaming equipment, will be sold off to settle a $5.4 million lawsuit. 
The situation has left the island and its tourism authorities with a thorny problem. Although other operators may be willing to come in and bid for a new license, there are likely to be few who would be willing to take over the assets themselves.
Representative Tina Sablan recently told Asia Gaming Brief in an interview, that there are serious questions over the safety of the construction and concern it may not have been built to comply with codes.
Casino Control Commission Executive Director Andrew Yeom has confirmed that he has received expressions of interest from other potential operators, but the way forward would depend on the legislators.
"It is up to you, lawmakers, to pass a bill that will allow multiple casino licenses — or kill the industry altogether, that is up to you," local media reports him as saying at the meeting.
"Yeah, I think we should just kill it and dynamite it down. That is what I want done," Camacho said."
Yeom believes that issuing at least three casino licenses will benefit the CNMI economy, but he conceded that most investors don't see Saipan as a casino destination, especially after the collapse of the VIP market.
He said he sees casinos as being a nice-to-have part of a larger resort offering non-gaming amenities, as this may give the island the edge over other destinations.
IPI's casino has been closed since March last year due to the Covid pandemic, however the rest of the building remains unfinished and is years behind schedule. The company initially promised a large-scale resort to attract Asia's high rollers and was reporting eye-watering levels of monthly rolling volume from a temporary casino it was allowed to operate until its facility was completed. The figures generated widespread scepticism and AML concerns.