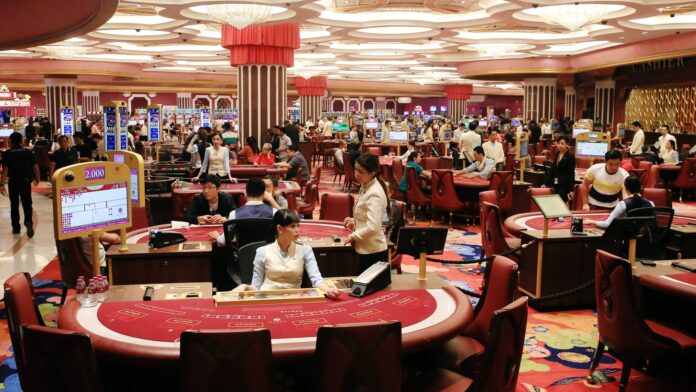 Analysts from J.P. Morgan say they are expecting "upbeat summer holidays" in Macau, with the city hoping to recover after registering its worst gross gaming revenue figure of 2021 in June.
The brokerage is estimating that, with increased player enquiries and bookings, gross gaming revenue could see a 30 percent monthly increase in July and even reach a "post-pandemic high in August,"with a further 20 percent monthly rise in GGR.
The group notes that this could help rebuild investor confidence ahead of the China National Day holidays in October, a period known as Golden Week.
Visitation has already started to rebound in July, after a 39 percent monthly drop in June, with data from the tourism bureau indicating hotel occupancy had reached 52.1 percent in the period from July 1st to 15th, an 8.4 percentage point increase from June.
About 30,000 visitors are entering Macau on a daily basis.
The firm also predicts that the much-discussed quarantine-free travel bubble between Macau, Hong Kong and the Guangdong province could be launched by September, first on a "limited scale."
On Tuesday, Macau authorities announced that they would invite experts from China's National Health Commission to inspect the situation in Macau and provide opinions on a possible relaxation of travel restrictions between the two SARs, with hopes that border crossings between the regions could be advanced "as quickly as possible." However no date was given for when the experts would begin their inspection.
Authorities have linked the travel bubble possibility to sufficiently-high vaccination rates in the two cities.
Macau is currently targeting a vaccination rate of 80 percent, with authorities saying that almost 40 percent of the population has been vaccinated – over 271,000 people have received a vaccine dose. Over 192,000 have received both doses, about 28 percent of the population. But Macau authorities warn that vaccination bookings have dropped by about 80 percent recently.
In Hong Kong some 2.06 million people have been fully vaccinated, while 2.88 million have received their first dose, about 40 percent of the population.
The health code system in place between Guangdong and Macau, mandatory for entry in the SAR, was also upgraded on Wednesday to display which individuals had already passed the threshold of 14 days since their second vaccination. A possible third booster shot is also being considered but has not yet been confirmed.
In addition, the possible elimination of the requirement for negative nucleic acid test results for vaccinated visitors is also being considered, but authorities say this would depend on the advice of the experts from the National Health Commission.