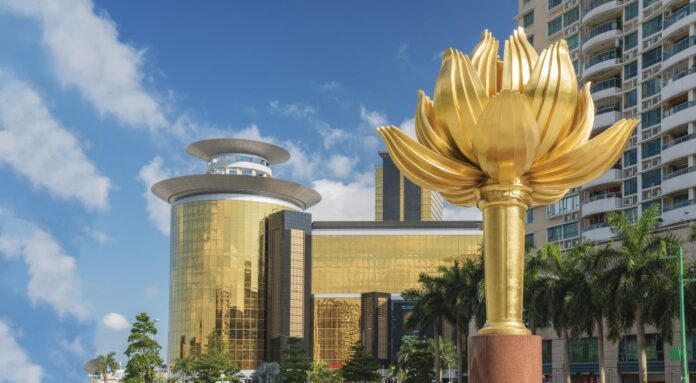 Macau's draft gaming bill contained some surprises but overall weren't considered as thesis-changing by analysts at J.P. Morgan, who retain their bullish stance on the stocks.
The main uncertainty to come out of the detailed draft that was released on Tuesday was the requirement for a minimum level of gross gambling revenue per machine and table.
The government will formalize a cap for each operator in terms of numbers of tables and machines. If they fall short of the government-mandated GGR levels, they will be required to pay a premium to ensure the government maintains its revenue targets.
If they can't meet the target for two straight years, the tables, or machines, can be revoked.
"While we did expect the so-called "Table Cap policy" to be formalized, we didn't expect this," the firm said. The "target amount will be published later via the official gazette and this uncertainty does leave room for the imagination, we admit," it said.
However, J.P. Morgan added that it doesn't think that the GGR targets will be too onerous, given that historically the government's GGR forecasts have been on the conservative side. In addition, the removal of tables if operators can't meet the targets would have an impact on employment as only locals can work as dealers.
"The provision is probably introduced to improve overall efficiency of table utilization as most properties were meaningfully underutilized even pre-Covid," the note said. "Time will tell (and looking with a glass half full perspective), minimum GGR target is much better than maximum GGR ceiling anyway."
J.P. Morgan said the bill appeared to clarify that a 30 percent target set on public float of shares is restricted to the actual concessionaire and not the Hong Kong and U.S.-listed controlling shareholders. It also said the requirement to boost local ownership of the managing director from 10 percent to 15 percent appears to stick with the status quo in that the stake can be non-economical Class B shares.
Although the law didn't ban junkets outright, J.P. Morgan said the legislation will make them effectively obsolete and therefore it factors zero junket revenue into its forecasts.
The law stipulates that a junket promoter can only work with one operator and will essentially become a dedicated marketing agent. The prior revenue sharing arrangements have been banned.
Unlike most commentators, J.P. Morgan said it does expect the concession re-tendering process to be completed by the June 26th deadline. The law now goes to the Legislative Assembly for review and passage before work can begin on the re-tender arrangements. The government has said it will be open to a short delay if the clock runs out.