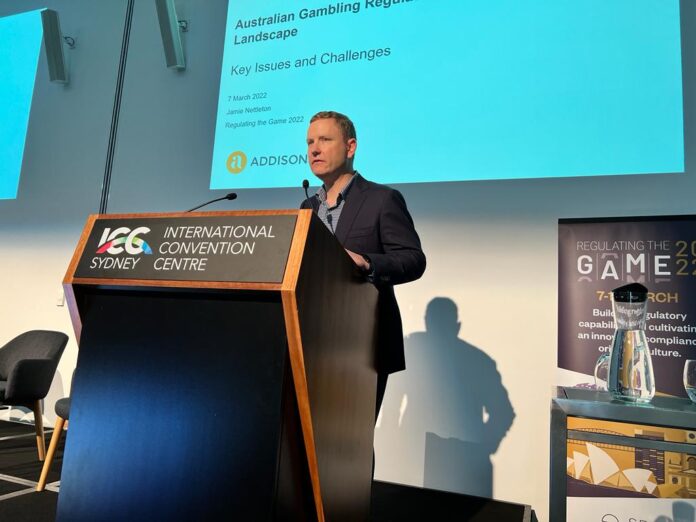 Australia's gaming industry regulators, lawyers and operators have called for a more harmonized approach to gambling regulation to reduce red-tape and allow the industry to focus on creating a more sustainable industry.
This was a consistent theme throughout Regulating The Game 2022's educational program, which gathered gaming industry executives across the country for a five-day conference in Sydney.
This call for consistency was not only aimed at state and Commonwealth legislation, but also across different regulating bodies, jurisdictions, and industry sectors.
During a keynote presentation on how Crown has been managing risk in the wake of the various royal commissions and inquiries, Crown Resorts' chief risk officer Steven Blackburn said that the operator has faced "interesting challenges" when the responsibilities of state and federal regulators overlapped.
"That's not inappropriate so long as it's consistent," argued Blackburn.
"One of the challenges we at Crown are facing, and that I think many of the other industry players will face in the not too distant future, is that the approach by jurisdictions is different."
"And I'm certainly not the first you will hear say that harmonization is necessary."
"I respect that it's not easy to do. But state and Commonwealth legislation at this point can create division, where collaboration should exist to truly build a beneficial responsible gaming regime and financial crime regime."
"We need to start with an understanding that the challenges in these spaces do not change because of some arbitrary line in the center of the Nullarbor or along the Murray River. They simply don't change. They are the same problems in each jurisdiction."
A similar argument was made around the national self-exclusion program that is set to be launched by Australia's media watchdog ACMA in mid-2022.
The NSER, as it is currently named, allows individuals to voluntarily exclude themselves from online or phone wagering across the country, including related advertising.
However, the register does not apply to retail betting venues, Keno, lottery, or land-based gaming venues.
To be excluded from those, a gambler would need to do so on a per-venue basis in many cases, with a catch-all national program for self-exclusion not in existence.
"People experiencing gaming-related harm cannot be assisted if they simply jump from a casino that has tighter controls to another casino across the harbor or to a pub or club in the West End," said Blackburn during his keynote.
Josh Landis, CEO of ClubsNSW made a similar point in relation to money laundering during a panel discussion on building sector capability on Tuesday.
"It's no secret that the New South Wales Police identify for The Star casino who they think is at risk of being a money launderer and should not be allowed in the casino."
Under "tipping off" laws, according to Landis, a casino that has banned an individual for suspected money laundering is not allowed to share these details with other parties, such as other gaming venues.
"Change the law. We'll ban those people too. If it's good enough to ban them from a casino, then we'll ban them from a club," said Landis.
Reflecting on the five-day educational program, Paul Newson, principal of Senet Advisory said that the conference demonstrated the importance of industry leadership to enable an innovative and sustainable sector.
It has also increased the emphasis on collaboration and partnership between regulators and the industry to achieve better outcomes, particularly for responsible gambling and financial crime.
"We are thrilled with how Regulating the Game has been received and key themes that have surfaced throughout the week including the dominance of culture in shaping how effectively key RG and AML related initiatives are implemented, the merits of all stakeholders being active in the public square contributing to public policy discussions, the need for better RG training to support early engagement with customers and support a safer gambling experience."
"We think Regulating the Game has an important place in bringing key stakeholders together to learn leading international practices and emerging thinking, but equally important to hear from each other, share knowledge, perspectives, and insights, to build connection and enrich understanding of challenges and opportunities across industry, government, and regulators."
One of the highlights of the event was touring not only the yet-to-open VIP gaming facilities at Crown Barangaroo, but also observing and hearing about Crown's vastly expanded responsible gaming facilities and capabilities during the tour and throughout the course of the conference.
"A strength of the program is assembling diverse attendance including casino operators, clubs, corporate bookmakers, peak bodies, principal racing authorities as well as key regulators from Australia and internationally. We look forward to Regulating the Game 2023 and welcoming another impressive mix of regulators and operators from across the sector including a strong international contingent!" concludes Newson.