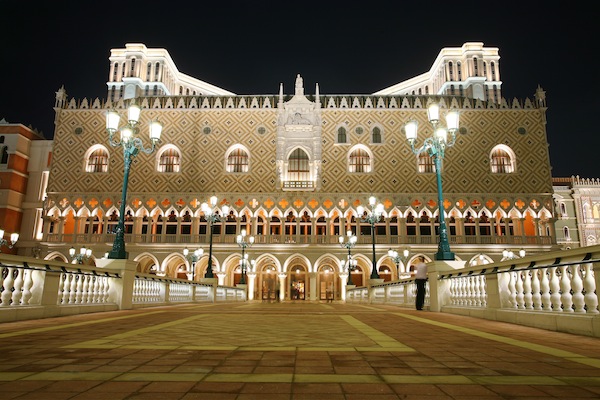 Macau's gross gambling revenue is likely to be 25 percent higher in 2025 than it was in 2019, according to analysts at Bernstein, who say the long-term structural story for the market, driven by mass and premium mass gaming remains intact. 
In a note on Sands China and Las Vegas Sands, the analysts said they expect GGR in 2022 to reach 89 percent of pre-pandemic levels and then to see growth of more than 11 percent through to 2025. They said they expect the mass market to be 50 percent higher than it was in 2019. 
Beyond that date, the analysts said further growth will depend on project development in Macau. 
Bernstein has an "outperform" rating at both Sands China and its parent company Las Vegas Sands. The firm expects Sands to retain its leading market share of Macau's mass market and non-gaming revenue. 
The operator has five properties in Macau and the largest room count, giving it an advantage in the mass market sector. It also has a highly differentiated product offering, with its retail business contributing 12 percent of profit. The company's mass tables and slots business make up 65 percent of profit, hotels 14 percent and lower-margin VIP just 7 percent.
Bernstein notes that Sands has the highest exposure to the mass market of all the operators at 74 percent of GGR compared with the market average of 61 percent. 
"We forecast Sands to further expand mass GGR contribution to 85 percent of its GGR by 2025 and maintain its market leadership position among all six operators," it said. 
Another reason for the bullish outlook on the stocks is the ownership of Marina Bay Sands in Singapore, which was the most profitable global casino in 2019. 
"We expect MBS to maintain its lucrative positioning in the future, especially long term on the back of its large-scale expansion."
The company and its rival Genting Singapore plan a major expansion of their properties. MBS is investing $3.3 billion, with additions to include 1,000 ultra-high-end hotel rooms, which would be a 40 percent capacity increase.
Bernstein said the scale of the expansion in the market may increase, as Las Vegas Sands remains bullish and has capital for expansion after selling its Las Vegas properties for $6.2 billion.