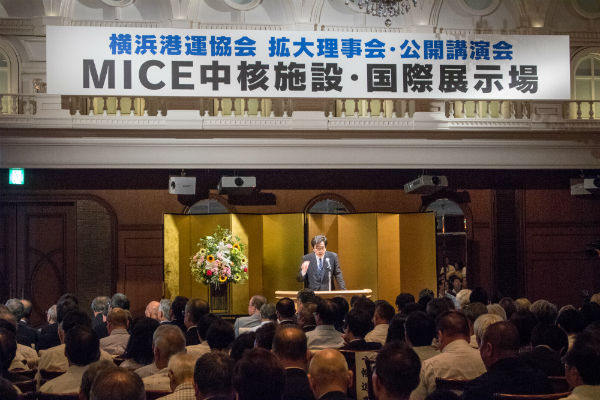 In front of around seven hundred politicians and businesspeople on the morning of July 18, the Yokohama Harbor Transport Association unveiled its vision for the development of Yamashita Pier, including what would become Japan's largest MICE facility, with all the main elements of an Integrated Resort, minus a casino.
At the heart of the development plan is the tentatively named "Yokohama Messe," which would be a convention center encompassing between 200,000 to 250,000 square meters of floor space This would dwarf the largest convention center currently existing in Japan—Tokyo Big Sight and its mere 96,000 square maters of floor space.
The main presentation was given by Tadao Ishizumi, chairman of the Japan Exhibition Association, who explained clearly and in detail how Japan's MICE facilities have fallen far behind most other advanced nations, and how this is a major missed opportunity for the national economy.
Chairman Yukio Fujiki of the Yokohama Harbor Transport Association, who hosted the event, fully backs the development of Yamashita Pier into a MICE-focused entertainment area, but he also reiterated his opposition to including a casino, noting, "Although our national government claims that MICE facilities are not profitable without a casino, even from the perspective of regional economic development, there is absolutely no need for a casino in Yokohama."
Other powerful business interests in the city, including the Yokohama Chamber of Commerce & Industry and the Keikyu Corporation, are lobbying strongly for the opposite position, insisting that a casino is indeed necessary for the Yokohama IR development.
Yokohama Mayor Fumiko Hayashi had been an open advocate of an IR bid until around the end of 2016, but since the beginning of last year she has described her stance as being a "blank slate."