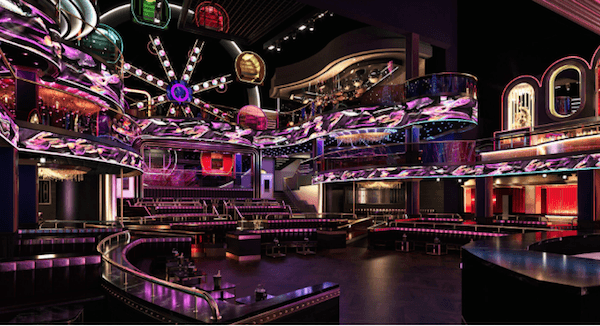 Marina Bay Sands is bringing one of the world's top nightclub brands to Singapore next year, becoming the latest of the region's major IRs to add clubbing to the entertainment mix in the hope of duplicating the success of Las Vegas' vibrant night scene.
The property, which is owned by Las Vegas Sands, is teaming with the Tao Group to open Asia's first Marquee Club. The massive venue will span over 3 floors with 70 ft. high ceilings and an 8-armed Ferris Wheel within its premises.
It follows Melco Resorts & Entertainment in betting on these type of destination venues. The Macau-based operator opened Club Cubic in its City of Dreams resort in 2011 and brought over the world-renowned Pacha Club to its Studio City resort in 2016, while Galaxy Entertainment reopened a revamped China Rouge also in that year. Melco also incorporated the Pangaea Ultra Lounge, by Michael Ault, into its City of Dreams Manila.
Nightclubs have become an increasingly important revenue driver in Las Vegas over the past decade, since the opening of Wynn Resorts' XS in the Encore Las Vegas in 2008. They have helped change the demographic of visitors to the U.S. gambling hub, with 38 percent of visitation coming from millennials, according to the Las Vegas Convention and Visitors Authority.
Seven of the top 10 highest grossing nightclubs in the country are along the Las Vegas Strip, according to Nightclub and Bar Media Group. XS nightclub at the Encore brought in more than $100 million in 2014 and so did Hakkasan with it's operation at MGM Grand. The Marquee at the Cosmopolitan is packing them in with a yearly revenue of $80 million.
A spokesperson for Marina Bay Sands said the time may now be right for these clubs in Asia.
"There has been a lot of growth in the entertainment scene in Asia with the entry of prominent music festival brands such as Ultra, of which we have been a key sponsor of since its debut in 2015," she said. "Asians are also well travelled and discerning, having experienced a high level of hospitality and entertainment overseas in cities such as London and New York. Partnering with the TAO Group on bringing in world-renowned brands like Marquee to Marina Bay Sands at this stage makes a lot of sense, from a business and programming perspective."
However, whether a nightclub is a wise investment for an IR is a complicated question. John Raczka is a senior entertainment executive who introduced Pacha and Pangaea to Asia while overseeing entertainment development for Melco's Studio City Macau and City of Dreams Manila. He says there are many variables needed to line up for a club to be successful.
" No matter how cool the design of a club might be or its scale, it's like making a motion picture—you will not know for sure how well it will perform, or for how long, until you open it because of that intangible component," he said.
Still, he points out that location is critical. Clubbers like to have convenient options so that if they do not see a crowd they like, or the genre of music playing at one club, they can quickly get to another venue for a fresh crowd to assess.  
Even in big cities, critical mass of social real estate gives a competitive advantage. For example, in Hollywood, you have Dream Hotel with its roof pool bar flanked by Tao on one side and Beauty & Essex on the other—it's a quad social play providing multiple trendy environments within which to lodge, dine, drink and dance. An IR can mimic this model under one roof through diversity of design, smart placement and functionality, he says.
Raczka points out that in the absence of neighbors, sheer scale can make a difference in pulling in the crowds to a standalone venue.
Marquee's sister club, Tao Chicago will open in September with a $25 million price tab for fit out,  
including a sunken dining room, bar, lounge and upper-level club adorned by a 16-ft. tall statue of Quan Yin, Buddhist deity of compassion, and a 10 ft. Japanese bell.  
"These mega venues are not targeting club jumpers, but are rather offering one-stop destinations for an entire evening so elaborate, so good in food quality and so different in interior design that you will not want to leave," he said.
MBS is confident its new club will have these winning characteristics.
"We believe Marquee Singapore will be a game changer in the nightlife scene in Asia with its reputation and dynamic setting in Marina Bay Sands," she said. "Set to be one of the largest clubs in Singapore, Marquee will house the most technologically advanced lighting and sound system in the region."
In a city which charges locals to gamble through a casino entry fee, adding a destination with features that will appeal to the local market is also key, supporting revenues during tourism downturns.
There are few available figures as to how well existing clubs are performing for their owners in Asia. In Macau, non-gaming revenue is rising, but at 12 percent of the total it's still a far cry from the 65 percent level generated by Las Vegas. Analysts at Morgan Stanley said in a report earlier this year that they doubted Macau would ever generate this level of non-gaming revenue.  
Macau's Club Cubic, owned by the Hong Kong-listed Luk Hing Entertainment, is one of the few to provide a detailed business review of its actual club operations. Last year it tweaked its strategy to include a higher number of small-scale events, which helped drive visitation to 157,000 from 134,000 the prior year. However, these smaller events attracted less sponsorship and had a negative impact on consumer spending which dropped by HIK$100 to HK$700 ($89.2) in the year.
So will Asia IR's experience Las Vegas caliber success in nightclub revenues?  
Raczka says in some select markets, like Singapore, where you have a rich City State with a high density of wealthy millennials and socially active professionals? Absolutely.  
"Are you going to sell 5-figure USD bottle service tables in Manila weekly? No."
However, you do have clubs in Las Vegas who have had the highest-grossing independent restaurant in the US as part of their club footprint.  
"So fusing a well-designed club with a strong restaurant offering vs. a pure club proposition can potentially be a stronger business model depending on the market and execution," he says.
This type of entertainment mix is also being deployed by MBS.
The operator worked with the Tao Group to launch the LAVO Italian Restaurant and Rooftop Bar in January this year and plans more offerings.
"We will be opening new F&B concepts such as famed New York milkshake and burger joint Black Tap in Q3 2018, and Marquee in 2019. Marquee Singapore will be part of a new multi-concept dining and entertainment destination."