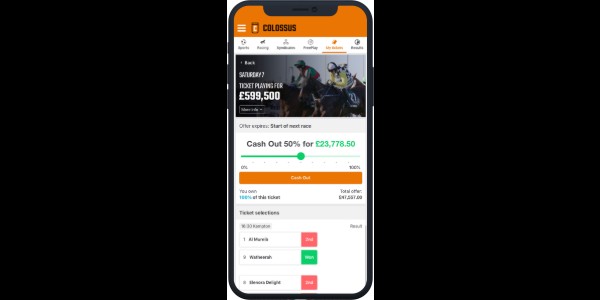 Colossus Bets, the provider of global sports jackpot pools and pioneer of Cash Out functionality, returns to ICE 2019 with an expanded product portfolio.
With a B2B distribution network now numbering 50+ operators, including Betfair, Betway Africa, Mr Green and Paf, the lottery-size prize guarantees, leg-by-leg Cash Out, Syndicates 'crowdbetting' and FreePlay features are hardly news.  
What is news is Colossus' foray into British and Irish racing jackpots, introducing all standard Colossus' USPs into the racing betting experience and giving it a much-needed boost.
Players have been taking note – the Best Dividend Guarantee on Place pools that Colossus has marketed since launch is a nice cherry on top for those who know their figures.
Colossus also offers its patented Cash Out and Syndicates technology as a 'wrapper' service on existing liquidity.
The company also prides itself in risk management for jackpots, illustrated by its underwriting of weekly prize guarantees in the millions of pounds.
In the 'coming soon' category, Colossus will be announcing the addition of eSports and Fantasy MVP jackpots to their sports content portfolio, with an eye on US audiences and beyond. eSports jackpots will appeal to young gamers globally, fitting in with what is seen as the biggest betting trend of the moment, whereas Fantasy jackpots will provide a bridge between a familiar gaming experience and scoring system, DFS, and 'traditional' sports betting.
Get in the know at stand S1-312.