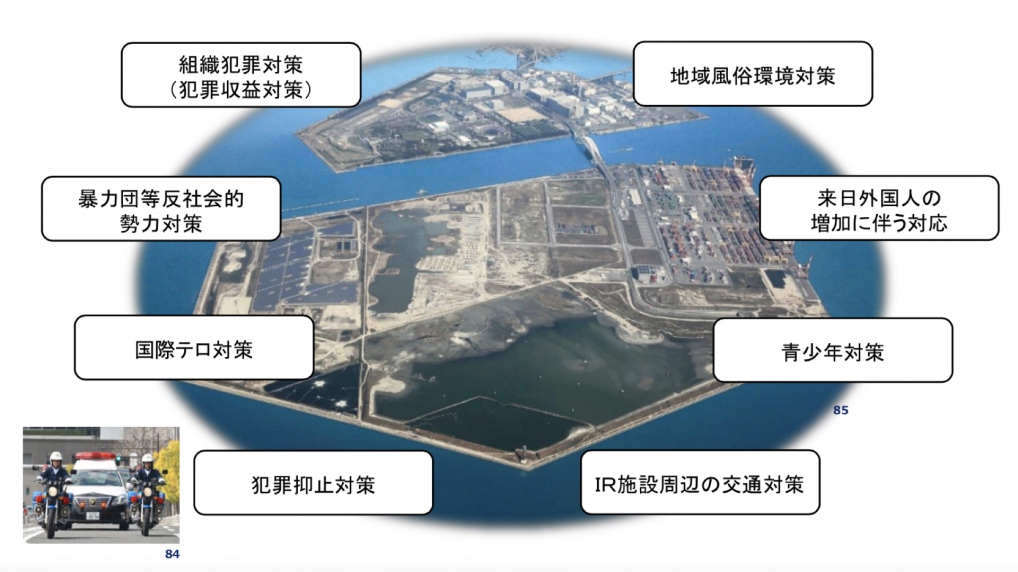 In recent weeks the outlines of security policies for the anticipated Yumeshima IR have begun to emerge from the Osaka prefectural and city governments.
While these plans could be revised subject to the result of local elections next month, the incumbent Osaka Restoration Association leaders are particularly eager to find technological solutions to their security concerns, extensively utilizing cameras with facial recognition capabilities and cutting-edge AI applications.
Plans also call for Yumeshima to host its own police station that would be working hand-in-hand with the IR operator.
Eight broad areas of concern have been identified: measures to prevent organized crime from deriving income from the IR; measures to prevent the entry of yakuza gang members; anti-terrorism measures; crime deterrence; measures to protect public morality; measures responding to needs created by the increase in the number of foreigners; measures to protect the youth; and ensuring traffic safety near the IR facilities.
In general terms, the plans include an outline of the areas in which the Osaka Prefectural Police will have the primary responsibility and the areas in which the IR operator is expected to take the lead.