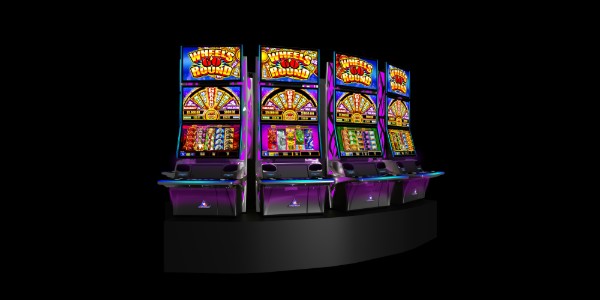 Aruze Gaming will be exhibiting their award-winning Muso Triple-27 for the first time at ICE London 2019.  
Muso Triple-27 won the gold medal as the Best Slot Product in the 2018 Global Gaming Business Gaming & Technology Awards.
Featuring the industry's first wireless charging port, Muso Triple-27 creates a stunning light display in its LED backlighting that gives a 360-degree presence on the casino floor.
An exciting way to attract players, Aruze created a sequential lighting feature that occurs on the back panel when the cabinets are connected to each other.  LED lighting continues behind the large 27-inch monitors, in edge lighting along the monitors themselves and even in the player's wrist rest.
Aruze expands the Muso family with Muso Curve-43 and Muso Limited, both launched at G2E Las Vegas 2018.
Muso Curve-43 is a cutting-edge video slot cabinet that carries a vertical presentation with a 43-inch J-style curved LCD monitor. The wireless phone charger seen on the Muso Triple-27 is also supported.
Muso Limited is also a video slot cabinet that incorporates a 55-inch vertical monitor stacked on a 27-inch monitor.  Based on customers overwhelming feedback, Aruze is launching the third edition of Paradise Fishing exclusively on the Muso Limited cabinet titled Hawaiian Fishing. Aruze's Amazon Fishing and the predecessor title Paradise Fishing, both community-style games, received four awards in 2011 as the most innovative gaming technology and as the Best Slot Product. Many of the key elements of that revolutionary gameplay have been maintained, including an improved Reel Controller players use to reel in fish during bonus features.
Muso Limited and Muso Curve-43 maintain the unique design of Muso with an LED-backlit panel, brilliant graphics display using 500 Candela (luminous intensity) and a large ergonomic glass-table button deck with a 13.3-inch LCD screen which are guaranteed to provide players comfort and convenience.
Muso Triple-27, Muso Curve-43, Muso Limited, and Cube-X Innovator Deluxe will be on full display at stand S5-210.