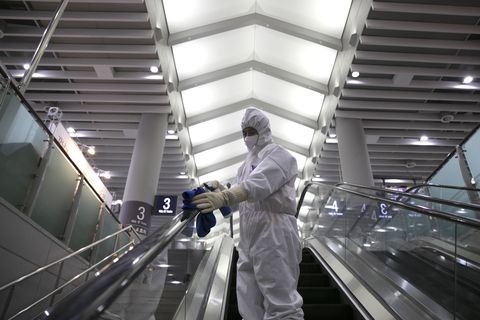 The latest news and updates on the COVID-19 (coronavirus) – with regularly updated information relating to new cases, travel restrictions and other information to keep you abreast of the latest developments.
26 Feb, 2020 – Travellers from South Korea to undergo a 14-day quarantine 
The MSAR government had imposed a 14-day quarantine for any individuals traveling from South Korea. The costs of quarantine in designated hotels will be borne by the individuals themselves.
20 Feb, 2020 – Almost a third of Macau casinos to remain closed
A total of twelve Macau casinos, nearly a third of the territory's 41 venues, have opted not to open today, according to Gaming Inspection and Coordination Bureau (DICJ) Director Paulo Martins Chan.
19 Feb, 2020 – Macau casinos permitted to reopen on Thursday
The government of Macau has opted not to extend the 15-day order that all of the territory's 41 casinos remain closed, paving the way for a return to business on Thursday.
19 Feb, 2020- DICJ issues regulations to prevent Covid-19 infection
The Gaming Inspection and Coordination Bureau (DICJ) met with representatives of all six concessionaires on Tuesday and laid out a series of strengthened regulations to prevent Covid-19 infection among casino patrons and staff.
Previous measures to be reinstituted include the measuring of body temperature for all visitors and workers at the casinos, at each of the territory's 405 entries and exits for customers and 47 for workers, as well as the requirement that all customers and staff wear facemasks.
New measures include the requirements that gaming tables must be placed a safe distance apart, and no more than half of the tables in a given space may be in operation. Customers must also not be placed next to one another, meaning that, for example, only three or four people will be allowed to bet simultaneously at a seven-person table.
17 Feb, 2020 – Singapore IRs step up virus prevention measures
Singapore's two integrated resorts have stepped up precautionary measures to limit the spread of the coronavirus, whilst rolling out promotions to draw more local visitors.
12 Feb, 2020 – Too early to know if the peak is near: WHO
Health officials on Wednesday said it is too soon to tell if the coronavirus is showing signs of slowing. "This outbreak could still go in any direction," Tedros Adhanom Ghebreyesus, World Health Organization director-general, said at a press conference.
11 Feb, 2020 – Coronavirus renamed to COVID-19
World Health Organization (WHO) renames Coronavirus to COVID-19. CO stands for corona, VI for virus, and D for disease, and 19 is for the year it was first discovered, explained WHO director general Tedros Adhanom Ghebreyesus during a press conference in Geneva.
9 Feb, 2020 – Coronavirus deaths surpass SARS 
At least 813 people are reported to have died from the disease, most of them in mainland China, according to official data released on Sunday.
8 Feb, 2020 – Hong Kong imposes quarantine measures for Mainland arrivals
The Hong Kong government has announced that visitors crossing the border from mainland China will have to enter mandatory quarantine for 14 days, starting Saturday 8th Feb.
7 Feb, 2020 – HK, Macau residents to face strict entry rules from Taiwan
Taiwan has suspended the issuance of entry permits on arrival and online processing of entry permits for Hong Kong and Macau residents.
6 Feb, 2020 – Macau hotels begin to suspend operations
With the mandated two-week closure of all casinos and a dramatic drop-off in visitors to the territory, a number of hotels in Macau are beginning to suspend operations
4 Feb, 2020 – Macau government orders two-week closure of all casinos
Chief Executive Ho Iat Seng has announced that all 41 of the territory's casinos must be shut for a period of at least two weeks as a measure to prevent the further spread of the Wuhan Coronavirus.
4 Feb, 2020 – Hong Kong confirms first death, a 39-year-old man from Whampoa Garden
A 39-year-old man has become the first person to die in Hong Kong after being diagnosed with the coronavirus. The man died on Tuesday morning after his condition deteriorated – he died of heart failure. It is understood the man had a "long-term illness and is known to have a cardiac arrest". It is also understood he is the 13th confirmed case in Hong Kong, and was diagnosed on Jan 31.
4 Feb, 2020 – 17,391 confirmed cases of 2019-nCOV, and 362 deaths
According to the Australian Government Department of Health, as of 4th February morning, internationally, there are approximately 17,391 confirmed cases of 2019-nCoV, and 362 deaths have been reported – a 2.08 percent fatality rate.
3 Feb, 2020 – Hong Kong closes major border crossings 
Hong Kong chief executive Carrie Lam on Monday announced the closure of a number of border crossings with China, with exception of the Shenzhen Bay joint checkpoint, the Hong Kong-Zhuhai-Macau Bridge, and the Hong Kong International Airport.
3 Feb, 2020 – US temporarily denies entry of foreign nationals who have traveled from China
The United States has begun implementing stringent travel restrictions Sunday evening, which includes the temporary denial of all foreign nationals who have visited China in the last 14 days prior to their arrival to the United States.
3 Feb, 2020 – POGO to implement measures against viral outbreak
Philippine Offshore Gaming Operators (POGO) have agreed to implement measures against the coronavirus after the country's first death from the viral disease on Saturday. This includes mainly information and education on the disease and its prevention.
2 Feb, 2020 – Philippines issues temporary travel ban for visitors from China, and SARS
President Rodrigo Duterte has issued a temporary travel ban on visitors from China, Hong Kong, and Macau, to curb the spread of the coronavirus, after the first death in the country was reported on Feb 1.
1 Feb, 2020 – Macau casinos order all customers to wear masks 
Macau gaming operators are now requiring all guests entering the city's casinos to wear protective face masks – effective February 1. DICJ said that guests that do not comply with the measure would be asked to leave the gaming floor.
28 January, 2020 – PAGCOR to support anti-pandemic measures
PAGCOR has issued a memorandum to all POGO and service providers, ordering them to exercise extreme caution in selecting employees to be sent to the Philippines. Another Order has been issued to impose a 10-day quarantine on all newly hired and returning employees from countries with coronavirus cases.
23 January, 2020 – CNY celebrations canceled over coronavirus 
The Macau government has canceled all public celebrations of Chinese New Year (CNY) in Macau in an effort to curb the contagion. The government has also ordered temperature checks to be conducted at all border crossings, and entrances to government buildings and casinos.
22 January, 2020 – Macau confirms first case, orders casino staff to wear masks
Macau has confirmed its first case of Wuhan coronavirus-linked pneumonia, in spite of the efforts of authorities to keep the infection out of the international gaming hub. The Gaming Inspection and Coordination Bureau (DICJ) has asked its local gaming operators to reinforce preventive measures in their casinos, including the wearing of masks by all casino staff.