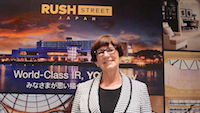 Japan's need to confront gambling addiction is immediate and will require a collaborative approach to be fully effective, according to Laura McAllister Cox, vice-president of regulatory compliance and legal counsel for Rush Street Japan, one of the international IR operators interested in gaining a license in a regional market.
In an exclusive interview with Asia Gaming Brief, she emphasized that addressing these needs is not a future problem that comes only with the opening of the first IRs, but is a matter that the nation should not be dragging its feet about.
"I think that the countermeasures bill is a huge step in the right direction," she says. "It's laying out a framework and its not just focusing on casino operators. There are various channels of gambling in Japan that have existed for a very long time."
Because problem gambling already exists in the country, addiction countermeasures need to be employed without delay. This includes proper research to even understand the current extent of the problem. Good research now can also serve as a baseline to more accurately track future developments.
"We want to recognize that partaking in gambling, like partaking in consuming alcohol, presents risks, so you should be educated about how to engage in the activity responsibly," she observes.
As for the international IR operators such as the company she represents, they will also have an important role to play, first and foremost in terms of education about problem gambling and the best means to grapple with it.
She acknowledges that not all of the current Japanese debate on the issue is actually hitting the mark: "I think a lot of the fear is not necessarily based on reality," she notes.
She also admits that not all of the policies proposed by the Japanese government have scientifically proven effectiveness. "I do believe that entry fees have potential to be counterproductive."
Nevertheless, she appreciates that stakeholders are being brought together to discuss the problem and hopes that this will lead to strengthened policies backed by an appropriate amount of public funding. IR operators will be one of the key stakeholders in the future, but "we can't do it alone," she observes.