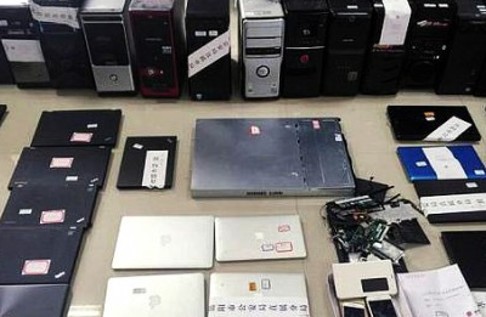 Police in China have cracked a multinational online gambling syndicate worth more than 500 billion yuan ($78 billion) that served nearly a million registered members on the mainland, The South China Morning Post and local media reported.
Planning for the massive crackdown – code-named Operation 109 – started last year. Despite a large number of arrests in July, the police action only came to light when it was announced by the Ministry of Public security.
According to the ministry, the syndicate had a complex structure with overseas divisions overseeing more than 500 gambling websites targeting mainland gamblers,The Beijing News reported.
The gambling websites disguised as closed websites such as email, work or financial systems requiring log-ins.
Its main server was in Taiwan while Cantonese and Putonghua-speaking customer service staff were located in Hong Kong, Thailand and the Philippines.
"These websites appear to be mail box log-ins but they don't come with registration function. From our data analysis, every sign is pointing to a professional team working in the background," said Peng Zhihong, from the Yueyang Public Security Bureau's internet crime investigation unit in Hunan province.
Police said the suspects used fake identity cards and "illegitimate" mobile phone cards to created false identities, and regularly disposed of computer and communication equipment, which made investigation difficult.
At any time, more than 120,000 registered gamblers from the million or more who had been given credit to gamble. Police estimate websites generated gambling profits of more than 500 billion yuan.