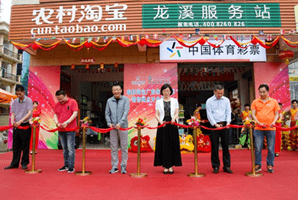 AGTech Holdings has entered into a three-year strategic cooperation framework agreement to carry out marketing and promotion, sales and operations of China Sports Lottery throughout the offline channels of its parent Alibaba Group in the Guangdong Province.
In the afternoon of June 6, AGTech and Guangdong Province Sports Lottery Center jointly hosted a ribbon-cutting ceremony at the opening of the Rural Taobao Guangdong Province sports lottery retail store in Boluo, Huizhou, Guangdong Province, marking the beginning in advancing the lottery channel cooperation from both parties.
AGTech will assist provincial sports lottery centers in expanding lottery products into Alibaba's vast brick-and-mortar retail network, which is expected to expand the reach and access of China Sports Lottery across the province, attracting more existing and new customers.
Currently, Alibaba operates thousands of Rural Taobao service stations, convenience store format Ling Shou Tong and etc. across Guangdong Province.
The integration of lottery into these selected locations will provide both lottery customers and Alibaba's vast customer base with unparalleled access to sports lottery. The cooperation brings together the resources and expertise from both parties, and promotes integration across channels.
John Sun, chairman and chief executive officer of AGTech, said, "We are very positive about the promising growth prospects of lottery business in Guangdong Province, which already has a leading position in China in terms of sports lottery sales revenue. The existing scale of the Guangdong lottery market and its potential give us great confidence that this will be a very successful cooperation."
Guangdong sports lottery generated a total sales of RMB 19.3 billion (US$3 billion) in 2017, making up for over 9 percent of total sports lottery sales.