Over the years, the MGS Entertainment Show has pivoted towards a wider technology and innovation focus at its exhibition, as part of efforts to respond to Macao's position as a "world tourism and leisure center."
The show will be held on 12-14 November 2019 in Macao, promising to facilitate business opportunities between exhibitors and buyers, whilst introducing new technologies to the industry. 
The exhibition, held at the Cotai Expo Hall at Venetian Macao, will feature seven distinct areas of focus, including Leisure Technology, Gaming Equipment, E-sports, Security Systems, Integrated Resorts (IR's), Procurement Fair, Hotel Supplies Securities Systems and Environment Protection & Sustainability.
The conference portion, in partnership with Sina Game, will consist of four major sections, including Transformation and Innovation of the 2019 Gaming Industry'; 'Sina Asia E-sports Industry Summit'; 'Sail Scientifically and Survival and Challenges of Overseas Living'; and 'Future Development Trends of 5G Cloud Gaming'.
Interesting technologies to be seen on the show floor includes an interactive indoor cleaning robot named iSmart and Viggo, as well as a VR device named Pilot Era8k Panoramic Camera, which allows users to attend all sorts of events in virtual space, such as conferences, concerts, and games.
Of course, a wealth of innovative gaming products and machines will be on display across the show floor – which will see government officials from various Asian countries, along with academics and senior management from integrated resort operators in attendance. 
Related Articles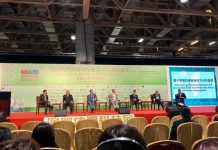 The 7th annual MGS Entertainment Show concluded its three-day conference and exhibition on Thursday, a show which gathered thousands of gaming and non-gaming executives from around the globe, organizers told AGB.  "It's a special edition of the show," as it is situated between the 70th anniversary of the founding of the People's Republic of China, […]