Hard Rock Japan LLC was launched in late January 2017 by parent-firm Hard Rock International in order to support the company's growth plans in Japan.
People
Edward Tracy is the chief executive officer of Hard Rock Japan LLC.Tracy was previously exmployed at Sands China Ltd, a subsidiary of Las Vegas Sands Corp, and was its president and chief operating officer, from July 2010 and then became the company CEO in July 2011. Mr Tracy was responsible for the oversight of the country's largest integrated resort operator by revenue, capacity and content, with 13,000 hotels rooms and 30,000 team members.In October 2014, Harvard Business Review named Mr Tracy as one of "The Best-Performing CEOs in the World" in its respected annual top 100 ranking.Prior to Sands, Mr Tracy served as President and CEO of Capital Gaming, a multi-jurisdictional manager of regional casinos. He also served as president and CEO of the Trump Organization, where he was responsible for managing over 12,500 employees, 3,000 luxury hotel rooms and 240,000 square feet of casino space.
Related Articles
IR operators that have been hoping that Hokkaido would revive its IR bid appear to be concluding that it is time to throw in the towel. The first of the three interested operators to shut down its operation in Tomakomai, Hokkaido, was Mohegan, which shuttered its local office at the end of February. Now it […]
On November 29 of last year, Hokkaido Governor Naomichi Suzuki announced that his prefecture would not be participating in the IR race, citing the several years it would take to complete environmental preparations at the Tomakomai site. However, parts of the Japanese media are reporting that, in fact, not only is Hokkaido actually still in the race, but that they are being sized up as one of the three eventual winners.
Hard Rock Japan has announced the appointment of Akira Kurita, a very prominent figure on Japan's IR scene, as its chief public affairs officer.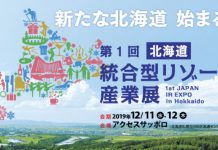 In what was nearly an inevitable move, the 1st Japan IR Expo in Hokkaido, scheduled to be held next week, has been cancelled by its organizers in the wake of Hokkaido Governor Naomichi Suzuki's decision not to go forward with an IR bid at Tomakomai city.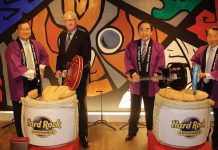 Hard Rock Japan's Tomakomai office has now opened—shortly after the election of Governor Naomichi Suzuki and a conservative prefectural assembly has kept the city's IR hopes very much alive.
Hard Rock Japan announced that it conducted a study tour last month for a group of students to the Seminole Hard Rock Hotel & Casino near Miami, Florida.
Hard Rock International's CEO for the Asia-Pacific region, Ed Tracy, outlined his firm's consortium-building strategy, saying a construction, or real estate partner would be ideal, as it seeks to win an IR license in Tomakomai, Hokkaido.
Jim Allen, CEO of Hard Rock International, was interviewed by a Japanese camera crew at the June 28 opening of the Hard Rock Hotel & Casino Atlantic City, and apparently made definitive comments that Hard Rock's IR bid in Japan was now entirely focused on Tomakomai, Hokkaido. "We have certainly looked at Osaka, we have […]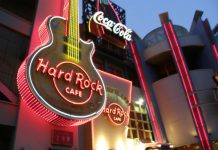 Hard Rock Japan is preparing to open an office in Tomakomai, Hokkaido, in August or September, a further signal that the Orlando, Florida, based operator is focusing its IR efforts on this regional city. NHK quotes Daniel Cheng, Hard Rock's senior vice-president of development, as saying, "Tomakomai is the most suitable location in Hokkaido for […]
Hard Rock International has become the third international IR operator to join Osaka's 2025 World Expo bid as an Official Partner, signaling their seriousness in competing with the likes of Las Vegas Sands, MGM, and Melco for what is likely to become the first major urban IR in the Japanese market. A Hard Rock Japan […]
Hard Rock International has announced the launch of a newly created division of the company, focused on integrated resort opportunities in Japan. According to a statement from the company on Monday, the new division, Hard Rock Japan LLC will be led by former Sands China chief executive Edward Tracy who will serve as its chief […]
The season has come for the sixteen or seventeen interested IR operators to concretely develop their strategies to woo local governments and to position themselves to be chosen as partners.