Website: http://www.altiramacau.com/en
Email: [email protected]
Address: Avenida de Kwong Tung, Taipa, Macau
Melco opened the VIP-focused Altira in May 2007. The 38-storey complex on Taipa island has about 230 guest rooms, with 24 VIP suites and 8 villas. It features fine dining, including the Italian restaurant, Aurora, Japanese restaurant, Tenmasa and Chinese restaurant, Ying, as well as spa facilities. It was formerly known as Crown Macau, until the opening of the City of Dreams in 2009, which features the Crown Towers as part of the complex.
Related Articles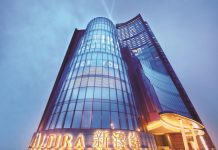 Altira Macau, the first hotel property of Melco Resorts & Entertainment Limited and one of only five hotels in Asia to achieve 10 consecutive years of Forbes Travel Guide 5-star recognition for hotel and spa, has been honored with the Green Key standard of excellence in environmental responsibility and sustainable operations. Altira's latest achievement means […]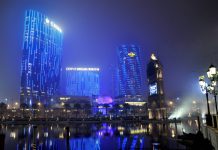 Melco Resorts & Entertainment reported an 8 percent gain in adjusted property EBITDA driven by its City of Dreams Manila and Altira properties, though overall revenue fell after a change in accounting practices.
Andy Choy, property president of Altira Macau and Mocha Clubs plans to revamp the food and beverage offerings at the property and will be re-positioning the Mocha Club, Macau Business reports. Choy revealed the future of the boutique hotel in an interview with MB, released on Wednesday. Noting the transition towards the mass market, Choy […]
Casino operator Melco Crown Entertainment (MPEL) will likely post strong results for 16Q4 as a result of Studio City ramp up and a rebound of City of Dreams, said a note from Morgan Stanley on Sunday. The brokerage said it expects MPEL to report 5 percent quarter-on-quarter EBITDA growth, ahead of the industry average, due […]
Melco Crown's latest leadership appointments represent a "significant change" in its operational organizational structure, said Bernstein in a note on Monday. Last week, Melco Crown Entertainment announced a number of new appointments to its leadership team, including chief marketing and brand officer Mr Frederic Winckler; new property president of City of Dreams, Macau, Gabriel Hunterton; […]
Melco Crown Entertainment Ltd. has announced a number of new appointments to its leadership team, including chief marketing and brand officer Mr Frederic Winckler, said the operator in a recent press release. Winckler has been appointed in the newly created role of chief marketing and brand officer responsible for the marketing and branding of all […]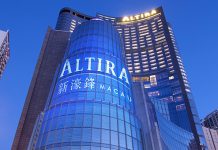 The chairman of a major casino junket operator in Macau has slammed the behavior of Crown Resorts in mainland China, saying it has been "too aggressive" in marketing its Australian properties to VIP gamblers, The Australian reports. U Io Hung, the chairman of Macau VIP clubs branded "CCUE" operating in Altira Macau, told local media […]
Melco Crown Ltd. has amended its $1.75 billion senior credit facilities for the seventh time, reaching accord with a syndicate of banks. The amended facility will be secured by assets of the company's City of Dreams and Altira. It consists of a $500 million term loan facility for 6 years and a $1 billion revolving […]
Melco Crown Entertainment's Altira Macau and Crown Towers casinos have once again received the Forbes Travel Guide Five-Star Awards, taking the total to eight, the most a company in Macau holds. The Forbes Travel Guide assesses properties around the world on their hospitality and awards those that meet the highest standards. Among the nine restaurants […]