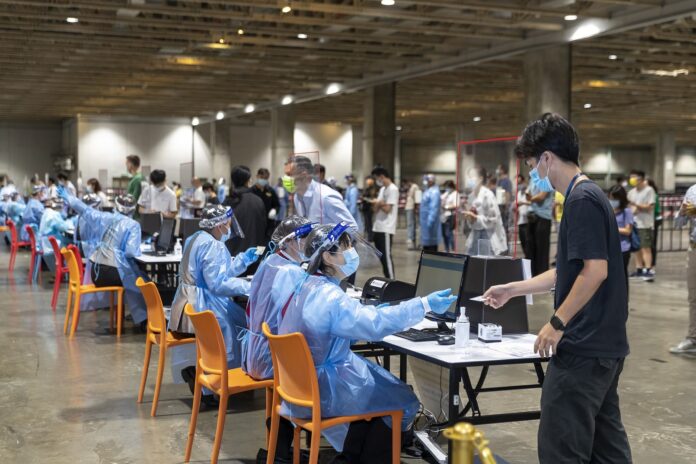 In support of Macao's second and third community-wide mandatory nucleic acid testing (NAT) drives, Sands China offered Cotai Expo Halls A, B and C as a 24-hour testing station. Free parking was offered at Halls D and E, as well as at the guest carparks at The Venetian® Macao, The Parisian Macao, and The Londoner Macao, to help ensure smooth operations at the station.
At the testing station, over 2,400 Sands China team members, including Sands Cares Ambassadors, took shifts around the clock, offering 24-hour onsite assistance for a total of five days to those getting tested during Macao's two consecutive testing drives, which began at 3 p.m. Sept. 25 and at 9 p.m. Oct. 4, respectively. They also volunteered to assist with the operation of the testing station at the Tap Seac Multisport Pavilion, and offered support to those needing special assistance, including seniors, pregnant women, those with children and infants, and people with disabilities, at the two testing stations.
At its peak, there were 28 testing booths in operation at The Venetian's station – including four dedicated lanes for community members needing special assistance. Around 65,000 tests were conducted at Cotai Expo during the two NAT drives.
"At this critical moment in the COVID-19 fight, it is our duty to assist in the citywide NAT drives with a testing site at Cotai Expo, so that we can help the government complete the testing as soon as possible," said Dr. Wilfred Wong, president of Sands China Ltd. "We are honoured to help support Macao's epidemic prevention efforts and are pleased to have our team members and volunteer team on hand to assist members of the community.
We are very grateful for the guidance of the government and the efforts of medical professionals, frontline workers and all volunteers in Macao's testing drives. Our thanks go to our team members and our volunteer team for offering their time and energy to assist and to the entire Macao community for their cooperation and understanding in making the government's NAT drives a success, and we hope that the Macao community will be able to resume life as normal as soon as possible."
In addition to offering The Venetian Macao as a testing site in support of the government's NAT drives, Sands China is providing a total of 4,000 rooms at the Sheraton Grand Macao Hotel under the "medical observation hotel" initiative. After initially offering 2,000 rooms, the company has, since Oct. 5, 2021, reserved an additional 2,000 rooms for medical observation purposes, in support of the Macao SAR's pandemic response efforts. This is the seventh time that the Sheraton Grand Macao Hotel has been utilised as a medication observation hotel since March 2020.
Sands China remains committed to playing its part in preventing the spread of COVID-19 in the community.