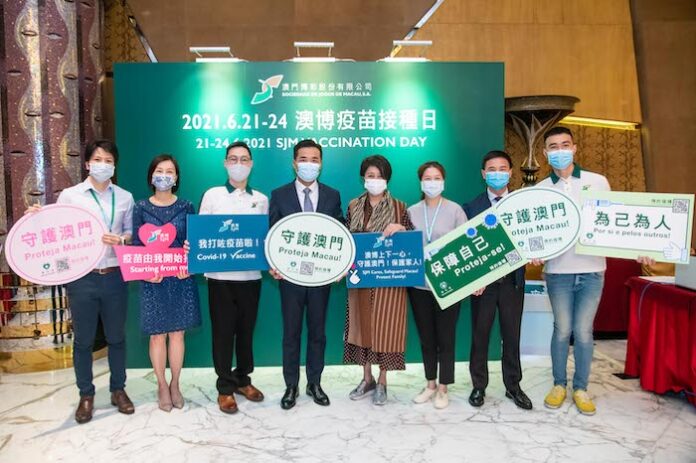 SJM Resorts said more than 3,600 staff and their families received jabs in its two-day vaccination drive, which has now been extended for another two days.
SJM also partnered with Health Bureau in organising an informative "Novel Coronavirus Vaccination Seminar" this month to provide employees with an in-depth understanding of vaccinations.   
Director of Health Bureau Dr. Alvis Lo together with Managing Director of SJM Ms. Angela Leong and Chief Corporate Affairs Officer Mr. Daniel Shim visited the SJM vaccination centre at Grand Lisboa Hotel to express their gratitude and support to the employees and their families as well as frontline medical staff.
 "It is encouraging to note that our vaccination encouragement programme and educational seminar in partnership with the Health Bureau have received overwhelming response from our team members," said Chair Daisy Ho. "Vaccination is a top priority in the fight against the pandemic.  SJM fully supports the Macau Government in boosting the vaccination rates in order to build an immune barrier in the community for the health and safety of residents and visitors."
Angela Leong, Managing Director of SJM, said, "I am very pleased to see so many staff members bringing their family members to join our vaccination sessions. I am very grateful to the frontline medical staff for their hard work and our team members for their enthusiastic support.  Together, we join forces in protecting the health and safety of the community."