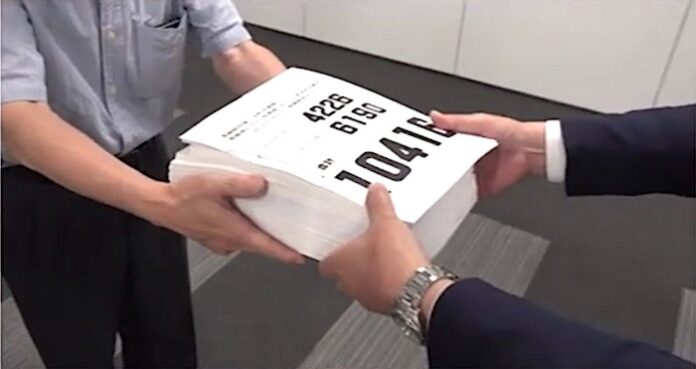 An anti-casino citizen's group delivered its protest signatures to the Nagasaki Prefectural Government this week, but the final selection process for operator consortiums moved forward smoothly.
The Stop Casino! Prefectural Citizens Network, which launched its activities in March 2019, handed over a total of 10,416 signatures of local residents opposed to the construction of the IR at Huis Ten Bosch, all of which they had collected by hitting the streets of the prefecture and appealing to passersby.
Representing the government was Takeshi Komiya, the chief of the Nagasaki IR Promotion Division, who politely accepted the pile of signed anti-casino statements.
It has been several years since we have seen a poll of public opinion in Nagasaki, but earlier data suggested that anti-IR sentiment in the prefecture is much weaker than in places like Yokohama. With depopulation and few employment opportunities for young people, there seems to be more acceptance of the IR initiative in the Kyushu region. It's worth noting that it is not necessarily impressive to gather 10,000+ signatures from a prefectural population of 1.3 million people over the period of several years.
At any rate, the consortium selection process is moving into its final lap, with all three of the groups which passed the last round—Casinos Austria, Oshidori-Mohegan, and Niki & Chau Fwu (Parkview)—having successfully submitted their final bids.
The latter group issued a press release on the occasion, with Executive Vice President of the Niki Etsuko Oishi, representing the Niki & Chau Fwu (Parkview) group, commenting, "We have planned and designed a world-class Integrated Resort for Nagasaki. It will attract premium tourists to Kyushu, contribute to the revitalization of the local economy, and become a major platform as an important Integrated Resort in Asia. We look forward to working with local communities and local governments in the process of bringing some of the world's leading facilities to the region."
Not a great deal is known publicly about this group, but the statement indicated that it includes Japanese and Taiwanese partners, with more than half of the consortium being in the hands of Japanese firms.