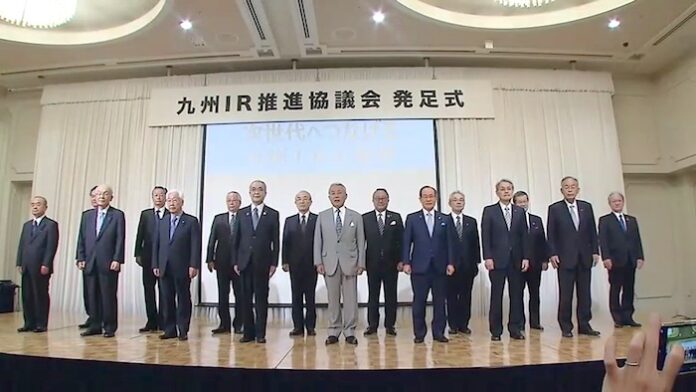 The stars of the regional political and business world came out on Monday to formally launch the Kyushu IR Promotion Council, aiming to win one of the three available licenses from the central government.
There are 22 constituent organizations that form the membership of the new group, including the Nagasaki Prefectural Government, the Sasebo Municipal Government, the Kyushu Economic Federation, and the Kyushu Regional Governor's Association.
"Looking to the post-coronavirus period," said Chairman Yutaka Aso, "the attraction of an IR can energize Kyushu and with our own hands we can make a connection with the next generation."
He added, "We are still in the midst of the attraction process. The first thing we must to do is to win the area certification for Kyushu and Nagasaki."
Aso comes from a blue-blooded aristocratic family. Aside from his new role promoting the Nagasaki IR, he is also chairman of both the Aso Cement Co. and the Kyushu Economic Federation. He is also a close blood relation to two former prime ministers, including his older brother Taro Aso, who has served since 2012 as deputy prime minister and finance minister of Japan, and heads an influential faction of the ruling Liberal Democratic Party.
The Kyushu IR Promotion Council plans to hold seminars and other events to help regional businesses meet with each other and to participate in IR-related industries.
Nagasaki Governor Hodo Nakamura told the gathering, "It's an extremely important point to consider how we can spread the benefits of an IR to the local economy and to produce effective results."
The Operator selection process is currently underway for the Huis Ten Bosch site in Sasebo city, with the three finalists recently identified as the consortiums led by Casinos Austria, Oshidori, and Niki & Chau Fwu (Parkview).